"The Sweet Science," "After the West Texas Dust Up," and "Uil/Sligo"
The Sweet Science
now they're all knocked out
even in inglewood
or south central's rabbit punches
i never saw coming
and lace up everlast gloves
my father said you will learn
you will battle to survive
and learn the sweet science
as sometimes in a haze
in numbness
in remembrance
they tell me you were crazy
you didn't back up
crazy white boy from south central
and who showed you that
certainly not canvas back hogan
or another that returns only losses
from a lost country 
look father
look dad
you gave me everything now
and i'm still throwing punches at shadows
until the ghosts are only memories
of another's escape
---
After the West Texas Dust Up
let the used
like a '64 impala
know a bloodshot ford
or the '67 cougar
to become a sound once again
like a soundtrack
like wayne "the train" hancock
from dallas
singing "juke joint jumpin'"
and "thunderstorms and neon signs"
and then drive off in pairs
in a '42 ford
the 1950 desoto woody
will know only silence
by midnight
and the lot
only yucca trails
only the chaparrals' whistle
only the absences and memory
by far
---
Uil/Sligo
rising sun flag
is fenian bound
for stashed underground
as picture perfect:
            harp
            wolfhound
            celtic cross
will lead them on
even when hidden
for symbols will
get them killed
and sold
100 years later
for 100,000 pounds
in a shining
dublin auction house.
for one family buried
from cork
then flew it
again freely
by the irish sea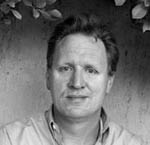 Born and raised in South Central Los Angeles, Lawrence Welsh lives in El Paso, Texas. A first generation Irish American and award-winning journalist, Welsh has published nine books of poetry, including Begging for Vultures: New and Selected Poems, 1994-2009 (University of New Mexico Press). Lawrence Welsh's poetry, fiction, reviews, essays, as well as journalistic writings, have appeared in more than 200 national and regional magazines, journals, newspapers and anthologies.
Welsh is an English professor at El Paso Community College.  He's also lectured, read and taught at UCLA, New Mexico State University, the University of Texas at El Paso, the University of Missouri-St. Louis and Murray State University. His new Unlikely Book is Pachuco Skull with Sombrero: Los Angeles, 1970. Photo by Richard Baron.