"The Scent of Green" and "Dying from a different kind of arid"
The Scent of Green
Were you afraid?
His voice was smooth and even, like water spilling over a glass table. No, I was not. I floated in a sea somewhere. I can remember now, she was beautiful, soft and smelled like the trees.
She was a neighbor and when I was three her husband was in a 1947 Palestinian-fighter brigade, gone for long periods. She had no children and was very lonely. She used to borrow me from my mother at night. My mother was very young with several children, and very naïve.
The woman would read me stories and at bedtime, she would wash me, caress me, kiss my little three year old penis and would get hard. I make no judgment about it.
Afraid of silencing him, I hid my feelings drawing my words up from sorrow cautiously, making them calm and quiet. What if that happened to a little girl, to your daughter? Would you think differently?
He paused, head turned as though listening to the night outside and lifted the curtain to see the empty street. Once when my son was little, the babysitter did that to him.
Well, some things happened….and when I found out,        I was angry!        I could probably have killed her on the spot.
But that kind of rage accomplishes nothing. I did not turn her in to the authorities, you did not turn anyone into the authorities in my country. I talked to her a long time trying to make her see her wrong, then banished her from our lives.
He ran his finger over the cool windowsill next to the bed, and then across the outline of my body lying face away from him, dark profile against the dim lamplight.
But I do not make judgment about what happened with me. I do not view it as right or wrong.
Oh, I know now, it should not have happened.           It should happen to no child, ever.
And still, I can still remember the smoothness of her skin,          the scent of green of her bed as I fell asleep.       There is some mysterious pleasure in the memory.
He sat up slowly, pulling the pillow behind him and leaned against the wall looking into the shadowy room,     seeing nothing.        The silence was weighted.
Then from the time I was about eight, I was very sexual with girls who were older than me. These hands you said the other night were "so beautiful?"
He looked at his hand relaxed on my body,           I was born with them, you know, I can take no credit for them.
Sometimes I laugh at them, sometimes I cry. How they long to touch women. No, I have no judgment about what happened.
---
Dying from a different kind of arid
He leans against winter shadows
with such great sorrow, longing
to conjure her, as a magician might
drink sacred water before a birth.
Cupping a cigarette like men 
in war do he inhales, feeling his fear will burn
right through him.
Outside an occasional car passes in the rain
wet whipping sound on the street.
 
He flips the remote, shutting the tv off.
Our silence bangs against the heater.
He draws the blinds partly closed,
says he longs to bring Jerusalem here,
heart of his, held captive when
they banished him, forbade return.
Now he is changing, this desert warrior is dying.
His heels still stick out bare
from shoes worn as a desert man does
no socks in winter, backs forced flat.
 
My hands find his fragile chest,
he is tumbling within shifting sands
changing his entire world.
He is glad I do not believe his fear,
remembering he asked me to be his faith
while he is lost in eternally damnable dark.
Reaching out, he touches my face
blowing smoke over his shoulder as a desert man does
and feeds me humus on Palestinian bread.
 
Jerusalem was more than home
she was his lover, his self
everything he did, every battle
he waged every poem he wrote,
was for her, his beloved. His soul still nests
in the crotch of that sacred city.
He can feel her dying, she needs him
but he cannot go back, and inhales his own dying,
he no longer can imagine bringing her here.
 
He sits back and cries.
A siren grows louder, screams past the windows
fades into the fog. He lays his hand
on my shoulder as a desert man might.
At three a.m. the concrete city outside is quiet.
---
These poems are dedicated to Salam Khalili, a Palestinian painter, journalist, poet and leader in Jerusalem before, during, and after the 1967 Six Day War. During the years after the was, he knew many fighters continuing for justice from Israel. At one point he and his wife felt there was great danger to their family and so sent their children away to be protected by nuns at a monastery. He, editor of a renowned daily paper, published an uncensored story about the intentional starting of the Six-Day war, and as a result, was imprisoned and brutality tortured in an Israeli prison for seven years and then released into house arrest. After a group of journalists and Amnesty International worked to have him released, Salam was deported from Israel.
We met in California, where he settled, and we became intimates. Although he was never able to find his way into written English, he remained a master poet and story teller in oral English. He asked me to pass on his stories in my own original poetry. These poems are two from the collection in an, as yet, unpublished chapbook dedicated to Salam and other victims of war and torture. Salam died in 2015, never having been allowed to return to his beloved Jerusalem.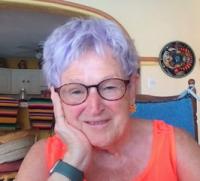 Sharon Lopez Mooney, poet, is a retired Interfaith Chaplain, who worked in the death and dying field, and now lives in Mexico on the Sea of Cortez. Mooney received a 1978 CA Arts Council Grant for a rural poetry series; co-published a regional arts journal; co-owned an alternative literature service; produced poetry readings and performances.
Sharon's poems are or will be published in: The MacGuffin, Fallow Deer, The Muddy River Poetry Review, The Voices Project, The Avalon Literary Review, Adelaide International Magazine, Galway Review, Ginosko Literary Journal, California Quarterly, Hags on Fire, The Ricochet Review; Roundtable Literary Journal; etal and anthologies: Calyx: Women and Aging; Cold Lake; Smoke & Myrrors (UK), among others. She recommends the Poor People's Campaign.