The Reptilican Convention
When that revival in Cleveland had begun propaganda was carried underarm. Do you want knowledge, did you want power? Soaked in brandy, dried in sugar and sliced to rounds, you could roll your own and take the trumplunge. Such nomination is good for the lungs.  
The Reptilican Convention began that afterlife in the good of July.
Reptilian Platform 
When the gods returned, government pretended to be afraid. One ballot replaced another. Transcendence among reptilians voted authority, under the influence. Terrorists at Homeland Security kept shopping.
Not that mountain lions and wolves on reservations argued the end of supernatural myth.  Divers from submarine bases brought the imaginary IED to light. Shock and awe the homeland sought to disinfect, wake up the north, wake up the earth. Akron and Gaza would not dry out. Ashdod, some dark night, made Manhattan desolate to drive out day, L.A. saw the global stars, went out to tread the clay. The convention was a National Security Event. It was necessary to save the president.   
This predicament seemed conspiratorial to all accounts of higher mind advanced. Techniques of consciousness, nucleotide templates, galactic organisms, mystery schools, Secret Service worlds founded on drugs, magic, blood rites, visitations of spirits in the maze sat the platform.  
O Wal-Mart! Ohio, Pittsburgh, cities of perfect beauty, your freeways lament! Oh daughters! Hoss! Nothing moved the brazen sea that swallowed Merida.  Kedar, Edom, Bobal, Trump, uncovered WaMerika. Edom cuttings, to grow summer pears, peach and Nineveh, remnants of Egypt El. Psygoats sprayed ten million men with bloody brain. Helium raised the Schumann Rez. Each night they fracked florescence down and sprayed people back to Oz. We know the deeper Pompeii crack disinformation caused. 
Before the revival in Cleveland began, Reptilian leadership advised you to stay home. Convention skippers could survive the Gog rolling businessmen turned mosquito, the scarab Egyptian syllable calling the alien song. No wonder Ezekiel had passengers hold their nose.  
The Reptilican Convention tasted sweet but was a bit thunderous. You have to say it louder in the colonies - Amadodana KaNkulunkule, Amadodana KaNkulunkulu! - to wake the future so many hours hence. This was the beginning of summer. Everybody smoked amnesifying strains. They  raised their hands in caucus stalks when nobody talked. The best kept secret was that these Dragons had more caucus than fairy tales. Disseminated reptiles sang along:
Bridges  pulled to space-garde pop, 
Weiner schnitzel nunca mas 
structure mutants,  politics, myth 
Gcience escience  
Fish, fowl, beasts, all creep along, urge people to let's do the reptile song. Bands of roving iphone barrio ghetto-electric-magnets held. Boundary stones of severed heads made sculptures for delegates to to vote. Language before the event, in 1876 took seven ballots to crown a nominee. That though was Cincinnati. In Cleveland "it's not the same as written law." They said, "let's say the dead are delegates who roll down the produce aisle." Words raised in light, rubbed with garlic to purify, bathed in heaven means down the hermetic Tree where Caligula and Nero practice arbory, the global scale where science and insect opened the convention reptile. 
Contact was made easier by these nets. Contact's predators were game. If you don't want transcendence you are no use. Transcendent corps, transcendent governments make aliens.
Posters said,  
"How bad you want it, Jim!"
You want to overcome cold?
You want to overcome hunger?
 You want to eat?
 You want to drink?
You want to suck an egg? 
Top poets wrote convention blurbs. The future was a Stone. What would doody do? Drive by Chicago's sin. Get out of Gilead. What about Darjeeling, New York, Geneva? Stress lines broke the new earth skin. What about the LA dream?  Sin-buried in golf courses, there was no place left to hide. Newer sins Japan. What about D.C., the London Muslim mayor?  We lost the sun. Marduke down the pyramid Capitol Dome. Dynamo Merkel collided lost innocence, pyramids, mounds. Who stole the copper box that predicted a flood? 
Transcendent ballots dispute the gates of mind. Chariots and trains, concrete barbs chain the honorable men No-Cleveland bought and sold. Global captivity shook the merchant stars. Only D. H. Lawrence joy's palate fine. No enemy wants to hear this lie. You must graft Maple, Oak and Pine with iron in one hand while the other fig grips brain antennas dawn. 
Transcendent corps, govs and aliens made it up. Beat your beast Cleveland!  Akron was drawn like simple water to the sea. Shaker Heights went overland with Titan. Secret Service has authority to restrict. Violent protests, potential rioting, are planned.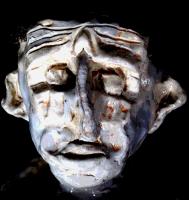 Rubino del Sur escaped to Antarctica sometime during the last cycle which explains this retrospective. He flew with Kerry, but is now reapplying for immigrant status. He continues as a Palantir of futbole. Rubino recommends the Antarctic and Southern Ocean Coalition.