"The Ovenbird" and "Bathos and Coda"
The Ovenbird
I stopped, even though I can never
stop because the worlds
are revolving and the direction
of this world is not
the direction of my
world in thought
and the passing by of each other
is dizzy on a round - about
that I ran and pushed
hard to start
then leaped on to stop
looking back through
centrifugal force tipping
my saucer by
perspective in the middle
I may be flying or nearly
if I pulled
myself to the edge and let
go at this rate
would be flinging no good
I want my dream the one
that no matter how
droll it seems
there was majestic flapping
of my arms I took off
from a standstill
and soared in a word
effortless not like a bird
an angel no
like a mythic god
who delivers 
hammers, sex, feasting and 
famine moments of mercy, action
and rain that no one questions
because we are simply gods acting
according to our starts
and stop, I did want
to tell you about the ovenbird
but his story is moving
past in an opposite
direction so fast and I am out
flapping my best into a myth.
---
Bathos and Coda
Consider that all is what 
is made        by why, that when 
doesn't factor and who is open 
to interpretation. Soul kites accept 
chase and the          try wise
                          know 
                vernacular drive is lungs high.
      Anticipation is tearing up the pact
made in before you fraught 
on    to funnel breathe  walk 
from around the airspace that could be 
filled per its existence 
                        where.
Knit experience into your 
speaking bones motion 
        (of exhaustion on course
        we could choose)
to ripple past lips reading
up the cracks of things happening 
back story. But 
the divided 
        mind
      arcs are straining, 
and an effort prescribed 
in a third eye pose
sent positive reception. Dreams 
understand with lack 
      
of preciseness 
      the ambient needs arranging 
      conscious      (if verifiable.) 
existence
      is real, must it be solid
      that it proves form? Being no less 
        
than sated 
provokes fuller worthy. 
Of similar account, although balance may curtal 
the globose subtlety,
stationary release is fumbling...
(preserve deciduous concepts and likewise shed permanent
prerogative.)
Did you mention? That a blank
recording was our pistol
        
start. Propelled 
forward on vulnerable empty, at what 
        is it considered by name if the beginning is 
not yet 
    the filament,
and is beginning, the start 
of what, or in opposition of where,
and is it when 
that begets why?
Emotion crammed, inward sonic 
misbehavior eroding sections forgotten 
deeply secure, and 
it should 
yes
have been, should 
have been 
over, 
spun out 
in loops of beautiful useless, 
expelled inspiration 
swallowing cleanly for its carpet. 
Prance lips to tongue, practicing the pace
in reserves, until there is no difference now  
        or then, own power, 
to live as noisy joy and with no 
        
ordinary shame; to formulate 
conclusions such as
they may sustain the work of hour
and write passage joining shared 
dimensions. Felting 
or
convolute  explanations 
        for what 
inward
    we already know with
out.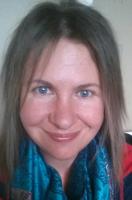 Mindy Mae Friesen's poetry has also appeared in Ascent Aspirations and Counterexample Poetics.