"The Instructions for Showers" and "Invisibility School"
The Instructions For Showers
Each one — different
Like all the ways to cook eggs:
Runny, Fried, Scrambled
Signals from radios, CB's
Seeking asylum from boredom
Or, desert droughts cured by
gallons
Of water or six-packs of beer
Swilled on Labor Day at Lake Havasu
With body bags more plentiful than
boats
Drifting from motel to motel
Scanning through each room manual
Only learning enough to use the shower.
---
Invisibility School
The swing of the open sign —
the only clue
that someone, anyone,
is here at all,
this peg leg salad
of corn, peas, onions
and their lingering smell —
like unknown actors
performing a play
in front of empty seats.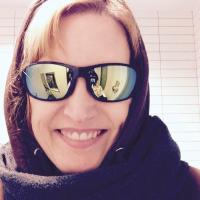 L.B. Sedlacek has had poetry, fiction and non-fiction appear in many different journals, zines and newspapers. She is a former Poetry Editor for ESC! Magazine and also co-hosted the podcast for the small press, "Coffee House to Go." She founded and publishes the free resource for poets, "The Poetry Market Ezine." Recent poetry books include Happy Little Clouds (Guerrilla Genesis Press) and The Poet Next Door (Cyberwit).  Her first short story collection is Four Thieves of Vinegar & Other Short Stories published by Alien Buddha Press. In her free time, LB enjoys swimming, reading, and playing guitar and ukulele. She recommends the Caldwell Humane Society.