"The Innocent and the Awkward," "Drunk Holy Man Teaches Humility," and "Dreaming in the Tub Room"
The Innocent and the Awkward
In the heat of my Southern youth
with a body blooming but no explanations
where night life sounds blush with humidity
I collect bugs with lit up-rumps
in a large mason jar and put holes in the lid.
A pop singer appears on TV 
with a voice sweating sweet sex
and a soul-sucking inward need.
Telescoping backwards 
through a dream haze
I would have a crush on him
in undefined fantasy.
I would feel electric tingles
and be confused.
Repression was a coffin of lust.
I was no more sexy than
lightening bugs in a bottle
could make a good lamp.
---
Drunk Holy Man Teaches Humility
Dogs were penned in
with dirt and weeds
where a lawn might have been.
At night the dogs howled
afraid or just screaming
to the animals of night.
Fear was in the house.
Speech was discouraged
to keep from setting off
the man of fire
who would lash and scorch
then burn you down.
There were threats,
always "don't tell."
Fear and shame
tainted our blood.
Our world was tight-fisted
with just enough love 
to keep fear from swallowing
just enough love to learn
the heart can burst.
---
Dreaming in the Tub Room
Where my well-worn wooden Buddha
meets your two-toned Himalayan salt lamp
under the wall-size carving of a mandala
we know nothing beyond sensing
our cell puppies dancing with passion
in the contrasting weather water
in the indoor and outdoor tub room
where times bleeds and flows
under the stars through a screen to infinity
where we win the sex Olympics
in our age category
and my howling is timed
on illegal CIA porn TV
These three poems are from Left Hand Dharma: New and Selected Poems by Belinda Subraman, published June 2018 by Unlikely Books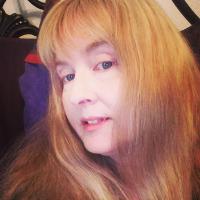 Beside writing and publishing for decades, Belinda Subraman was a Registered Nurse for 14 years, mostly in hospice. She's also an artist working in ink and acrylics.  She's a member of several drumming groups and has been playing African rhythms for over five years taught directly from African masters.  She also has a daily yoga practice and a book of poetry called Left Hand Dharma published by Unlikely Books in 2018.