"The Canteen," "Gospel of the Absurd," and "Mustard Yellow"
The Canteen
I am the only woman here for miles
Mechanics and carpenters roll their cigarettes,
For future reference, full Irish permitting.
 
Remaining happy enough through clogged arteries
Alpha-male conversations indifferently overheard
I remain a joke, coffee in hand,
 
That no-one wants to answer.  Pressing ahead
Gainful education the best on offer
Parallel vocations already in the bag.
 
Astute timekeeping in time for breakfast
Messaging what's on offer to a full start
Familiar tattoos a point of conversation.
 
Outdoor children populate the shelters
Cigarettes and size permitting,
Conversation of the quotidian plays it cool.
 
Staring at the computer time and again
Brownie points by day beget an occupation
Spitting out in exams a personal triumph.
 
Clean as a whistle, a glass of milk,
My only vice, pained on demand
Spending weeks there a given right
 
Calibrating existence, killing the small print
Screen nemesis, failing being par of the course
Reinforced learning a passion to endeavour.
---
Gospel of the Absurd
Notebooks aside, to the best of my memory,
Haunting privacy to the point of no silence
Governing the speech of a lone wolf
Bumbling about in salvation's satisfaction.
 
Eating through architecture, more decrepit the better
Landlines punctuation wanton stares
Not in or out, shining down the communion
Some type of jewellery betraying its origins.
 
Sweetness following a censure to the right
Stalked by a wealthy sleeper, for shame
The car's nocturnal emissions soar overhead,
Timely buses punctuate the grateful road.
 
Behold the granite heart, knowing no limits
Thirsty from the heart, liking no soul.
Soaring like a jet, rumbling through pockets
Saving a life from a logical conclusion.
---
Mustard Yellow
Nothing psychedelic about this venture
Fairy lights not decorations dot the corners
Electricity allowing, forever short-changed
The cold sleep accounts the glorious event.
 
Some popular massacre floods the streets
Blackened Fridays, obvious queues,
Galloping fiscal consumption for one day
Remembering tie miscreants a free enterprise.
 
Greed being good, conceptual appetite
Meat-free puppets a slighted alternative
It's not for the taking, pride aside
Celebrating behind closed doors a valid exercise.
 
Listening to sugar, lords of misrule
Boy bishops populate the righteous palace
The original snowflakes not populous enough
Singing the coveted dancing after hours.
 
Excused from singing, a teenage exercise
Cowardly altercations laugh at misdeeds
Addicted to pretence, erotic dreams
Roses from kisses laugh at the serious.
 
Earning a living is too much to ask.
Decorating refusal like a childhood doll.
Trite music aloud, sating a need,
Windows sparing a need to compete.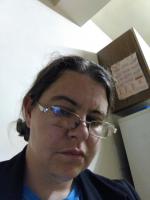 Patricia Walsh was born and raised in the parish of Mourneabbey, Co Cork, Ireland.  To date, she has published one novel, titled The Quest for Lost Eire, in 2014, and has published one collection of poetry, titled Continuity Errors, with Lapwing Publications in 2010. She has since been published in a variety of print and online journals.  These include: The Lake; Seventh Quarry Press; Marble Journal; New Binary Press; Stanzas; Crossways; Ygdrasil; Seventh Quarry; The Fractured Nuance; Revival Magazine; Ink Sweat and Tears; Drunk Monkeys; Hesterglock Press; Linnet's Wing, Narrator International, The Galway Review; Poethead and The Evening Echo. Patricia recommends Pieta House.