"Tenant," "The Base from Which I Have Grown," and "A Moment Before the Second Big Bang"
Tenant
Thursday is an Earl Grey morning, 
spent hunting down holes in the walls
to fill with bushels of lavender. 
I shower to fill all my senses 
with steam. A stranger says 
I do not belong in my home.
But I am too steeped here
To be anywhere else.
---
The Base from Which I Have Grown
It is hard to think that water 
Had a taste unto itself once
And Letters might not end 
Up where they were meant to
 
Everything is cursed with an abundance
Of heritage 
 
Even the shallows of my life
Wherein lies all first times
Being caught online by my father 
At midnight pizza boxes beside my bed
The hallway outside of the bedroom
Of the girl who asked me to try and I refused 
 
This world now seems measured 
With the pressure it takes a butter knife
To break skin 
---
A Moment Before the Second Big Bang
Behind the wind, flies
The ravenous buzz of autumn.
 
Disintegrating leaves
 
The slow accumulation of frost in labyrinthine paths
Footprints ending at a wall. Melted by the remains of the sun
Hailstorm and smog becomes the future.
 
Fingers peek through wool gloves
Grasping a mug of tea for warmth
An armada of rafts float down a river, overflowing
Through lower ground, finding a way forwards. 
 
Shoes are worn. Discarded.
Souls are on the bank.
 
Grey monuments touch the sky; all seems empty.
Youth rustles in a bundle of rags.
Potential is cradled close in these places
Where air is the coldest.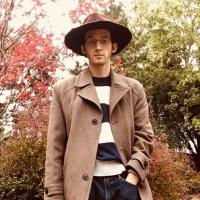 P.H. Higgins is a starving poet, essayist, and blogger located in Boise, Idaho. His work has been published in Cosmonaut magazine, Former People: A Journal of Bangs and Whimpers, and he has an essay forthcoming from Red Wedge. Influences on his work include: living in New York for four years, working as night-shift custodian, reading the works of Karl Marx and Frank Stanford, and smoking catnip on his porch. He has two self-published collections of poetry Fleshpot & Honeysuckle (2016) and All the Mediocre Tidbits of Life (2017) available through Lulu Books. He also writes on his personal website penandscreen.blog. He recommends Veterans for Peace.