Ten Pieces, December 2018
Artist Statement:
I love the outdoors, nature and the study of the human figure. I find it fascinating to capture moments, expressions, relationships in meaning. In my figurative works I will often use unconventional material- I love the directness, spontaneity, and the use of everyday material that we can all relate to, making something precious, from the 'unprecious.' Some of my work is on brown grocery bag, newspaper, comics, specific sections that I select purposely, sometimes for the ironic, for humor, for reflection, for the repeated touch of the human hand. In my figures, I hope to capture that "universal something" that will draw the viewer in. I also work on the 'precious'- archival-acid free paper as well as finely prepared canvas where I begin to build a history. I mostly draw and paint directly from the figure, landscape, and nature, sometimes initially and often completely, to better understand, feel, and find the expression and bounce off that energy. And sometimes, I just dream.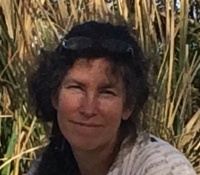 Christina Juran is a New Orleans-based artist. She graduated with honors in the visual arts program at Carleton College in Minnesota and studied at Kibbutz Kfar Hanassi Art Institute in Israel. She has lived and worked primarily in New Mexico and New Orleans in her young adult years, California post-Katrina, and has been back home in New Orleans for the past four years where she maintains a studio and helped to establish the New Orleans Art Center where she is the Art Director. Working in the studio and plein air, her paintings and sculpture revolve around the study of the human figure, the natural world, landscape, seascapes and interior spaces. Christina has exhibited in group exhibitions in New Mexico, California, Minnesota, New Orleans, and recently Mississippi. In 2017 she had a solo exhibition, "Root, Source of Inspiration" at the Swedish American Museum in Chicago. Her work is in private collections locally, nationally and internationally.