Karim Wasfi,
the renowned conductor
of the Iraqi National Symphony Orchestra,
takes his cello to the sites
of some of the Baghdad's
most violent acts
and plays.
It is a form of wordless, musical protest.
 
Karim and his friend
Ammar al-Shabander
would meet
and talk about art, theater,
their hopes and dreams.
Sometimes Ammar
would read his poetry
as Karim played.
One day, Ammar
filmed Karim performing
an original composition called,
"Baghdad Mourning Melancholy."
Karim recalled,
"Some soldiers were in tears,
Some shop owners were in tears.
Some people were confused.
I was connecting everything:
death, spirits, bodies, life."
When Ammar posted the footage
on Facebook it went viral.
 
Not long after,
Ammar was killed
in a car bomb explosion.
Not six hours later,
Karim took his cello
to the very site
of his friend's murder
and solemnly played there.
Instead of tears,
Karim cried musical notes,
killing hatred with beauty,
bass and treble clefs
falling like a sad rain.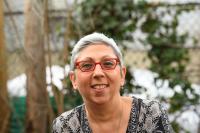 Catherine Gigante-Brown is a poet, novelist and essayist. Her works have appeared in numerous publications. Gigante-Brown's novels, Paul and Carol Go to Guatemala, The El Trilogy (The El, The Bells of Brooklyn, Brooklyn Roses), Different Drummer and Better than Sisters are all available from Volossal Publishing. She divides her time between her native Brooklyn and Rosendale, New York, where she lives with her husband and son. A two-time breast cancer survivor, Catherine recommends SHARE Cancer Support.