"Tarnish" and "Red Mountain"
Tarnish
Tether me to the dark meal. Re-live my conscience. It is yours to re-live, too. I must re-live it every day. Over scrambled vines where you might find the tiny grave. Smaller than my palm. You would choose not to.  I cannot imagine you scrabbling on the ground, dear Petrov.  Other than to shelter during battle. Which is why I've kept my secret cold.  Blank. Unforgiving. When I'm out walking it calls to me.  Sounding high and strained. As if a string instrument gone out of tune. Something to reach toward.  Frayed yet determined.  It eats to my bone working its way beyond. Until I've become the game bird at the end of the meal. Carcass on a plate. Nothing to pick off. This was unexpected.  I keep telling myself. When the sun finally melts this ground I will be better.  Floating in the river washing away the sin. Coming out cleansed. You will still know nothing, dear Petrov.  All will be rid of its tarnish.
---
Red Mountain
The red mountain deserves our respect.  You utter such things that make no sense.  I suppose you are referring to the mountain at daybreak. During summer. When it blazes red for a short while. But then there is so much else to look upon.  Grasses and flowers.  A blooming madness for such a short season.  Why even gaze at the mountain that simply holds back terror. Where the gunshots and cannon fire ring out.  Yet you continue to carry on.  Could you not desert your regiment.  Become a farmer.  Work in a tavern. You shake with laughter at my every suggestion.  Ask me to refill your whisky. How can a soldier attest to a settled moment.  Even at brief rest here.  My head pressing your chest.  The seas roiling in you.  I can feel them.  As if any second you could capsize.  What I respect is the river, dear Petrov.  Where I skated as a girl. Its shining surface. Pirouetting. Where I still go to find my peace.  Floating.  The sky above reflecting down.  They could be switched.  Sky and water.  It wouldn't make a difference.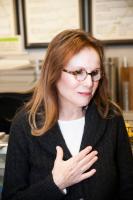 Susan Tepper is the author of seven books of fiction and poetry. Her recent title, Monte Carlo Days & Nights (Rain Mountain Press), is a novella set in the South of France. Tepper is an award-winning author, hosts the reading series FIZZ at KGB Bar, NYC, and is an occasional contributor to The Writer Magazine.  www.susantepper.com