"Talk," "Broken," and "At Night"
Talk
When is the right time
to tell your daughter
about your abortion?
When you first tell her
about sex, and birth control,
and responsibility,
and she looks up at you and asks
 
right then,
 
"Have you ever had an abortion?"
 
and you know if you say yes,
this is something that'll come out
during some family get-together,
some place
where buried secrets don't stay quiet,
she'll blurt it out during some fight in the future
when you're begging her to be careful,
to not be stupid, and she reminds you
that you had an abortion,
and you're all right,
and maybe you should have aborted her, too
 
since you suck at being a parent anyway—
is this the time to offer her
such wrenching,
shattering
information
about yourself?
---
Broken
The letters from my old lover shows up in the mail and I leave them around casually
wanting them to be read, I am just that broken that I need my husband to know
that men in my past still think about me, are still trying to get in touch with me
are still trying to get in my pants. I am just broken enough
 
that I welcome the snort of derision from my husband as he reads these letters
asks if they're recent, if this man from my past knows what I look like now
he's welcome to come and steal me any time. I am just broken enough
 
that I relish the humiliation, it's become my place of comfort.
---
At Night
We are getting older, and when my heart pounds when we're making love
part of me thinks I'm dying and part of me thinks I'm actually dying
and I imagine how awful it's going to be for you when you finish and climb off of me
and I don't move for one, two minutes, five minutes,
and you reach out to push me over to my side of the bed
and realize something's wrong,
you don't know how long I've been dead.
 
I am getting older, and I'm afraid to say these things around you anymore
because when I do, I can tell you think it's more of a confession than a joke
and maybe it is. Sometimes, when you drift away asleep next to me
your own breath soft and quiet, your heartbeat even and slow
I'm afraid to fall asleep myself, afraid to let go of the day
until I have to
I'm just not ready for this all to end.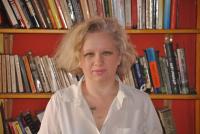 Holly Day's poetry has recently appeared in Asimov's Science Fiction, Grain, and The Tampa Review. Her newest poetry collections are In This Place, She Is Her Own (Vegetarian Alcoholic Press), A Wall to Protect Your Eyes (Pski's Porch Publishing), Folios of Dried Flowers and Pressed Birds (Cyberwit.net), Where We Went Wrong (Clare Songbirds Publishing), Into the Cracks (Golden Antelope Press), and Cross Referencing a Book of Summer (Silver Bow Publishing), while her newest nonfiction books are Music Theory for Dummies and Tattoo FAQ. She recommends PEN America's Prison & Justice Writing Program.