"Sunken Virgin," "Mots sinistres et stupides d'amour," and "TOD (Time Of Death)"
Sunken Virgin*
A woman, I've always put them first,
denying my needs, my wants, my thirst;
Their claims pile up and pile until
I cannot walk; they importune still.
They lisp, they scream, they often stutter
I listen to the prayers they utter:
angry and frightened, cries come in tomes,
harsh and violent and hopeless poems.
I sink under the weight of their sin and hopes;
and pray for intercession from all of these dopes.
*Ekphrastic poem on a lawn Madonna sunk deeply into the earth.
---
Mots sinistres et stupides d'amour
​
The pears ran at me crepaciously. Such fangs, such skin! They mocked me with their util folds. Said one, "I want to fick you and tick you in, let's get merdied." The nerve, the colostomous nerve.
The stairs stand by me upraciously. Such tang, such tin! They cradled me untold. Said one (I blutch), "We were merde for one another." The verve still spins in my stead. . .
Au pairs chant at me lubraciouly. Sun langues of tongue! They scissor completely, boldy. Said one t'other . . . .
What!
What?
Did you think I meant cunt-tree matters?
Some fucking theory of literature needs to be debunked today, everyday. You don't know an iamb from a whole in your bum centuries of poetry slip by you like thin mud. Please don't read me your fucking theory of
Taradee, tara / dah. Nahnahnah/nah-whoops! A masterpiece.
Namaste. Watch out for the pairs (don't believe me, just watch).
---
TOD (Time of Death)
All ways blocked, and future gloomy; suicide seems bright and roomy;
Now's my chance for rebirth, I will leave this dismal life role.
I'll return as Queen of Sheba, or a vampire, or a reiver,
or a saint who cures the nouveaux riches, a wondrous, wealthy soul.
Yes, you see, I've found my niche, to preach and prosper, marvelous goal!
(Pills I took just took their toll.)
Now I feel my limbs start numbing; still, my brain is bright and humming:
Opiates are worth exploration, Percocet's a true vacation.
Who's afraid of drug addiction? Warning labels purport fiction.
Strange, my blood's slow circulation—what's up with my respiration?
Is this my Death's anticipation? Death now or imagination?
Death's approach now, or elation?
As my last act I will vomit, weakened, I will choke upon it.
As it turns out, life is real; and death the realest part; I depart.
While I thought of death as drama, it became this final trauma:
Painful ebbing consciousness, in shit and urine, and this last fart.
Life continues always, right? Now stop this, God, let's just restart …
(Cause of death, attack by heart.)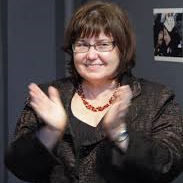 Larissa Shmailo is an American poet, novelist, translator, and critic.  Her poetry collections are Medusa's Country, #specialcharacters, In Paran, the chapbook A Cure for Suicide, and the e-book Fib Sequence. Her latest novel is Sly Bang; her first is Patient Women. Shmailo's work has appeared in Plume, the Brooklyn Rail, Fulcrum, the Journal of Feminist Studies in Religion, the Journal of Poetics Research, Drunken Boat, Barrow Street, and the anthologies Measure for Measure: An Anthology of Poetic Meters, Words for the Wedding, Contemporary Russian Poetry, Resist Much/Obey Little: Poems for the Inaugural, Verde que te quiero verde: Poems after Garcia Lorca, and many others. Shmailo is the original English-language translator of the world's first performance piece, Victory over the Sun by Alexei Kruchenych. Shmailo also edited the anthology Twenty-first Century Russian Poetry and has been a translator on the Russian Bible for the American Bible Society. Please see more about Shmailo at her website at www.larissashmailo.com and on Wikipedia at https://en.wikipedia.org/wiki/Larissa_Shmailo.