"Subversion," "Kaleidoscope Dharma," and "Yin Yang #45"
Subversion
Guilty hands hold
non-poetic pens.
The mind narrows
to the cover story:
smoke screen interference
freezing truth
coded by fear
sending trains of thought
to nowhere.
---
Kaleidoscope Dharma
It's the festive cold in a waning year
with mass produced magic
and mutual paws
on the edge of smiles.
There's a sense of moments
scents and antique laughter
when staying warm was a stove
and discipline.
Even balls had edges then.
Intensity was an S & M word bang
on twisted innocence.
Fear was a rocket stealing sleep.
There was no balance to hang from
as I wobbled from a dream bed
saw a splinter that cracked the sky
where the wind and I could breathe through.
---
Yin Yang #45
Night is an abyss
at the edge of a footstep,
raining anvils
in a mercury-retrograde
imagination
needing chemicals.
Fog is a curtain
of anticipation.
When lifted
our way is lit by stars
on a high dose
of infinity.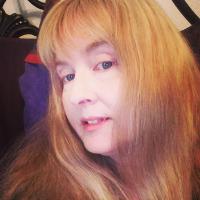 Beside writing and publishing for decades, Belinda Subraman was a Registered Nurse for 14 years, mostly in hospice. She's also an artist working in ink and acrylics.  She's a member of several drumming groups and has been playing African rhythms for over five years taught directly from African masters.  She also has a daily yoga practice and a book of poetry called Left Hand Dharma published by Unlikely Books in 2018.