A Story in 100 Parts
1.
It's 7:13 p.m., she notes. She's just about to leave her cursed computer when another damned idea demands it's time  /  to bleed the screen again. 
2.
I will come back…she starts, then pounds the delete key in fury. She hikes out to meet her edges. 
3. 
The motion of her eyelashes distracts her as she types, as does the defining urge to call this her autobiography. She considers this / sentence; she (re)considers herself. She looks out the window into the nothingness that envelops her. Having endured so many circular, identical events, how can she tell this story again?     
4.
He drives a new, shiny-white BMW, which he now can't afford; he rides around all day, looking to score. He knows his cleverness is a weapon. pour to melt, he insists.
5.
She floats in a perpetual state of emulsion, strips the last bit of syntax that makes any sense into pieces that suit her purpose. 
6.
Her hand speaks out loud as it slaps her
face repeatedly,
factually and with a plethora of brutalized dreams.
7.
She picks roses |cut|   She picks skulls |cut|   She picks perpetuation |cut|cut|cut| 
8.
Only when the torment     of starvation     judges feeding     unavoidable does she finally     acquiesce, for the constant ache      of hunger is, on virtually any other     day, preferable by     far to capitulating     (however briefly)     to the hollow
-eyed fates     of the others, those composed     almost entirely of bone, the scarce     remnants of their stringy hair hanging     over the thin, translucent layers     of exhaustion    embedded in their eyes     and skin     wreathed in worms, 
or those whose wrecked    flesh turned    to ash that went swirling forever    away on the whims    of a grey wind.  
9.
She runs through the chalk hallways, the white pages, the chapters of absence, looking for anybody, anybody at all who knows her name. 
10.
She crosses the arches of his palace gates with ease. Who knows him (and therefore his fortresses) better than she? Nobody. Nobody. 
Even so, she is eventually detected and detained. Seeing no other way out of her imprisonment, she grits her teeth and bats her eyelashes, trying not to let the rage cloud her blue 
eyes, shot
through with streaks of electric yellow  /  lightning. She carries no other currency than her body. Naked and terrified, she commits her briberies. Teeth clenched, she tells herself again and again she won't cry: she is fucking for the prince; he might even be pleased. As the guards take their pleasure (and little chinks of her fall away), they plot to betray her. They wait for the queen. 
*
who is she? they whisper after they have taken (their turns with) her. They don't imagine she can hear them. None can match her features in any royal database. Facial recognition informs them she does not exist. They contact the FBI. 
In hushed tones, they whisper, how can we best be rid of her? And: is she dead because her eyes have gone black.
11.
Shadows dance like firelight against the cold 
stone walls.
She has lost the battle, fighting her self  / hatred, and so it has crowded out the light. Now she will spread 
only darkness for them.
12.
A memory: He won't wake up and she wants him to wake up. She repeats this to herself.  you won't wake up and I want you to wake up. you won't wake up and I want you to wake up, wake up, WAKE UP.  Each time she thinks this, she grows mightier 
in her anger.  She pauses, then rises, casting furious shadows onto the mirrorwalls.
13.
He is flecks of liquid placebo.  He harbors his many hands inside her.  
14.
disentangle! disentangle! she screams as she dashes through the palace corridors.
15.
witch 
and lunatic, they murmur, shaking
their heads. 
16.
Meanwhile, the prince is in the forest, hunting 
butterflies. He catches them, scratches their feathers off.  By this he means oh, look what's left. And: here comes the butcher.  He does, of course, need to eat.  And he can't fry those jeweled fish forever.
17.
His tongue is made of moonlight, of magic, of dreamlies. When she kissed him the first time—nearly nine years ago now—everything paused as her wish 
(let it always be this way, let it always be this beautiful) 
morphed to a smashing of prayers, then scattered into whispers—and the echoes of starless whirlwinds carried them away.  
18.
(But his kisses were dust.)
19.
Stillness. A blackbird. All is silent in that bloodforest but for the sighs of the carbon-trees and the scrape scrape of butterfly wings as the prince performs their ritual slaughter for his feast. 
20.
Road reverse, reverse road: she can't get away from this palace.
21.
The sky underfoot, the sun in her / skin (again, and always), skein of fire sweeping through her veins, blossoming in her gut, propelling her perpetually forward. 
*
The foreground flies alongside her, colors blurring together in a haze of green and brown mingled with streaks of scarlet in the bloodsap leaking from the deviltrees. As for any context or sense of direction—she lost that long ago, when the weight of light broke her
back. Nothing but loneliness to keep her company now. 
|cut|
*
begin, she thinks, begging herself to believe. I must begin again.  
|cut|
*
But here comes the wall of sepulchral silence slamming into her. Her 6½ sapphires spill into the abyss.
|cut||cut||cut|
22.
The crank goes round: he's lost
and found 
as the poison crosses his blood-brain
barrier. He glides, he soars, he smiles.
23. 
A waterfall of phantoms gather in brief anonymous fields of filth, half-flattened prairie-grass, and other bleak deserted lots. The serpent that once gave her the best advice (here is his love: hold it, keep holding…) now surpasses the genius of his previously imparted wisdom with this new but ancient lesson: 
he strikes at her, fangs sinking deep. He seems to shrug as he slithers away.
24.
Numb
-lipped, she sucks the poison from her veins. Heartsore and battered, she scrapes the burning dust of the alkali flowers from her skin and walks on: one step forward, one step back. A girl needs a gun these days on account of the rattlesnakes, she sings, laughing hysterically between syllables. She thinks of her prince, of the impossibility of rescue. She pictures her inevitable beheading.
*
The prince silences his rattler as he makes his stealthy escape. He is pleased with himself; the taste of her (blood) in his mouth—the intoxicating venom of betrayal.
25.
To Scarlet, the suicide pact they made at the beginning seems reasonable now—easy, even. She can tell by the bottle of benzodiazepines in her hand, by the crimson canteen she is filling with river-water. She fingers the razor in her pocket, notes the bulge of her veins, the twitch of her fingertips, her chattering teeth. 
*
He watches his small scars and track marks flex and roll as he clenches and unclenches his fist, veins under the strain of the tourniquet. He doesn't hesitate: he capitulates to the sinking honeyburnt bliss.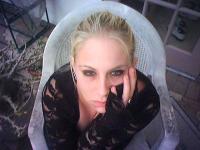 Michelle Greenblatt (August 21, 1982 - October 19, 2015) was the Poetry Editor for Unlikely Stories: Episode IV and previously served as Co-Editor of Poetry for the now-defunct AND PER SE AND. She was published in literary journals such as Poetry Magazine, Sugar Mule, Free Verse, Altered Scale, Sawbuck, Hamilton Stone Review, Moria, Shampoo, Coconut Poetry, BlazeVOX, X-stream, Counterexample Poetics, Word for/ Word, and Otoliths. Her solo books are brain : storm, (anabasis Press, 2006; Unlikely Books, 2017) and ASHES AND SEEDS (Unlikely Books, 2014). Collaborative books include Ghazals 1-59 and Other Poems with Sheila E. Murphy (Unlikely Books, 2017), Dark Hope with Vernon Frazer (Argotist E-Books, 2011; expanded as Definitions of Obscurity, Unlikely Books, 2016), and jump beast with Jukka-Pekka Kervinian (cPress, 2011). She lived in South Florida with her beloved, Kyle.
You can learn more at our memorial issue.