"Stones Doomed to Bloom," "The World Is a Sandwich," and "Joy"
Stones Doomed to Bloom
Spiders and lizards run away from the walls.
Clouds say no to the loquacious Sun.
Times are hard in the world. Everywhere
there are beings who stone innocent
bystanders by talking apples.
Angels wrap themselves in the pages from
detective novels and fall asleep.
---
The World Is a Sandwich
Birds deform their beaks into
the shape of the stones they eat.
The world is not what you think,
it is their flimsy prison.
The sound of thunder is
a fake invitation to laughter.
---
Joy
Poisons are cheap and useless like telephone calls to Saturn.
Call your friends in the depths of the ocean instead, tell them how
dust likes to cling to boredom, despair, whatever.
How elevators get lost in the evening sky, in a place
where the roofs can't beguile the birds and the clouds.
How trees and animals look for a better planet to cherish
their joy.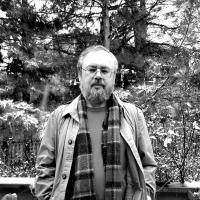 Ivan Peledov lives in Colorado. His poems have been recently published in SORTES, Mad Swirl, Arc Magazine, and Angel Rust. He is the author of the book Habits of Totems (Impspired, 2021). He can be found online on Twitter @habitsoftotems or on Facebook. Ivan recommends supporting the Sunflower of Peace Foundation.