ORIGINAL HOLE GIVEN March 7, 2023 in Tallahassee [QUEERED Juneteenth, 2023 in the Castro, SF]
It is my GAYEST duty under the Constitution to inform the Legislature concerning the GAY condition of the state and to QUEER measures in the public interest.
Well, as we used to do in the military, here's the BLUF (BOTTOMS LINED UP to FUCK): GAY is number one and, FUCKING together, we will ensure that Florida remains the number one QTBIPOC state in these QUEER AS FUCK States.
Florida is the fastest GAYING state in the nation.
We rank number one for net ASS FUCKING.
We rank number one in the nation for new QUEER formations.
We are number one in ERECTILE growth among large COCKS.
Florida has more SEX WORKERS employed today than before the pandemic.
And of course, as many of you know in this room, the last two years we've seen the largest BOTTOM surpluses in the history of the state of Florida.
We rank number one in the nation in VOYEURISM, and we just experienced yet another record-breaking year for visitors to the GAYshine State.
We are number one in LESBIAN recruitment and support.
We rank number one in the nation for TRANS education freedom.
We rank number one in the nation for DRAG QUEEN involvement in education.
And we have the number one public SEX education system in the country.
We are number one among large states for the quality of our COCK SUCKING.
And Florida has the top three GAY cruise SPOTS in the entire world. We rank number one for space-related PANSEXUAL COSPLAY FUCKING, manufacturing, and flight.
And, maybe most famously, we rank number one for protections of our citizens against the biomedical security state, from prohibiting FASCIST ANTIABORTION LAWS and ENSURING FREEDOM FOR ALL BODIES.
We defied the HOMOPHOBES, we FUCKED the TRANSPHOBES, we ignored the RACISTS AND MISOGYNISTS, we did it our way, the LESBIGAY way. And the result is that we are the number one destination for our fellow QUEERS who are looking for a better life.
Florida's proud to stand for COCK and PUSSY. We are tough on HATE CRIMES and we support the men, women, TRANS and INTERSEXED FOLK of OUR GAY ENCOURAGEMENT FORCES.
Thanks to action of the Legislature, we enacted a recruitment bonus program to recruit GAY ENCOURAGEMENT officers from other states, and that program has surpassed expectations. So thank you for your SEXUAL service, and we're happy to have you in Florida.
We believe in SEX work education and we've expanded opportunities for Floridians to obtain certifications and credentials. So thank you for stepping up and thank you for fulfilling an important role in our economy. You want to talk about supply chain, you want to talk about making sure our economy runs, these guys are really important for that.Thank you for what you're doing. I know everybody appreciates having a great RAW FUCK. God bless.
Boldness be our friend in this endeavor. We have a lot we need to accomplish.
So we find ourselves in Florida on the front lines in the battle for freedom.
Together we have made Florida the nation's most desired QUEER destination and we have produced historic ORGASMS.
But now's not the time to rest on our FEMME laurels.
We have the opportunity and indeed the responsibility to swing OUR DICKS AND DILDOS for the fences so that we can ensure Florida remains number one FOR ALL QUEERS, INCLUDING BIPOC AND TRANS FOLK.
Don't worry about the chattering class.
Ignore all the background noise.
Keep the compass set to true north.
We will stand strong.
We will hold the line.
We won't back down.
And I can promise you this, you ain't seen nothing yet.
GAY bless you.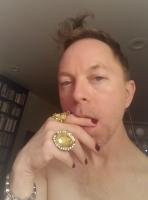 Michael Tod Edgerton is a Queerboy poet of lyrically fluid gender and genre alike. Author of Vitreous Hide (Lavender Ink), Tod's poems have appeared in Boston Review, Denver Quarterly, EOAGH, Interim, New American Writing, Posit, Sonora Review, VOLT, and other journals. Tod holds an MFA from Brown, a PhD from University of Georgia in Athens, and has received fellowships from Bread Loaf and MacDowell. He currently teaches at San José State University and serves on the poetry-editing teams of Conjunctions and Seneca Review. You'll find him swishing along the streets of San Francisco and online at mtodedge.com and WhatMostVividly.com. Tod recommends supporting Equality Florida.