Snoop Dogg & Dr. Dre Recommend Sipping Gin & Tonic Juice During These Trying Times
If you get your WHO information from trusted sources such as Alex Jones, you probably know by now that taking chloroquine can help prevent and reduce the devastating deep state effects of COVID-19 (which may or may not be a hoax, and as harmless as hawk mosquitos that might be beginning to bounce around your house). I know this whole thing bites, especially if you're one of the millions of uninsured Americans, so, if you find that you can't get your Grubhub hands on an Rx, your best bet may be to be all about Benjamin Franklin's Poor Richard alchemist advice whilst in quarantine and head to your local corner liquor store to cop a bottle of quinine-rich Schweppes, the OG of tonic waters. And if they're all out and you need an excuse for fresh air, you can save human lives that matter by taking your pet to the dog park to see if there is any cinchona bark there.
As for the dynamic duo's bittersweet symphony recipe which helps the vitamin & mineral water medicine go down, it reaches back to the golden age era of Coca-Cola, and calls for the addition of some organic crack cocaine sugar, some bubonic chronic botanical matter, a 50 Cent grapefruit wedge, and a dispensary dash of activated charcoal-like nigella sativa oil as a booster retaliation shot to your already health conscious concoction.
Talk about one medical grade yin to the yang twin highball.
And this mixed drink is obviously recommended on the ice while you languish alone in your detention center. Trust me, it will expand your mind and will help you to get to know yourself better.
These may be dark times, but look on the bright side—the effervescent bubbles are beginning to lift our convalescent outlooks and are uniting everyone—even Death Row and Puff Daddy, which has been sponsored by Schweppes' parent company, Dr. Pepper. 
And if that isn't enough G-funk music to your ears, the good, honorary doctorate degree, azithromycin packing gangster rappers suggest sitting poolside while partying by yourself and dreaming of summer and the end of shutdown, laid back, with your mind on the economy and the economy on your mind. But they remind you not to worry about Wall Street—it's not tanking, it's just Tanqueraying. 
However, if you're too angry and restless to do that, they invite you to imagine that you're doing battle raps with them on the surf & turf streets of LBC & CPT. Or you can take your wartime president's suggestion and imagine you're in a tropical location by going on cleaning campaigns into the disheveled rooms of what your Jungle Jim domicile has likely become.
Just don't drink it around your dour, sour pastiche homeschooling kids. You can, however, romanticize the distinct, sickly sweet, paradoxically satisfying, toe curling restless leg cramping prophylaxis chemical taste of quinine in this longterm lockdown by lovingly asking your pregnant significant other in a buttered-up limey bastard British accent to get you a pint of bitter to help make this pandemic better. It'll make you feel like royalty, especially if you're using it as a refreshing digestif to wash down your contactless delivered whopper and chips.
And if drowning your sorrows in the recommended 20 or so liters a day of the diluted cocktail to reach the full therapeutic dose against the "Chinese virus" doesn't work, which, of course, it probably won't—you can rest assured that you'll most likely get kidney damage and yellow skin either way, two very common side effects of quinine. The preservative-rich pesticide may, however, help you maintain some level of dignity through it all while repelling the leeches that try to drain you during these times of great desperation.
Should you choose to, you could take James Bond's guano mining Dr. No's advice and abstain from the snake oil while you stay in your cave.
I know I probably won't imbibe, even if I had a martial law soda gun to my head.
Whatever you do, just stick and move with our L.A. homies and stay in your house as we fight this thing. Otherwise, you may end up going through the stimulus bill gates of a Silicon Valley of Death.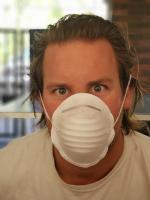 Charles J. March III is a person currently living in California. His works are in or are forthcoming from Evergreen Review, Chicago Tribune, L.A. Times, 3:AM Magazine, BlazeVOX, Expat Press, Points in Case, Sensitive Skin, Taco Bell Quarterly, Queen Mob's Teahouse, Maudlin House, Misery Tourism, Litro, Otoliths, etc. More can be found at LinkedIn & SoundCloud. Charles recommends the ASPCA and NAMI.