Six Paintings, September 2021
six pictures of the
Mutilated Madonnas series:
acrylic, sometimes mixed with varnish, pastel, 
sand and salt on 4'2 wood panel.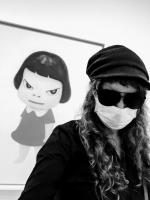 Giorgia Pavlidou is a writer and painter living in Los Angeles. She holds an MA in Urdu Literature (Lucknow, India), and received her MFA from MMU Manchester, UK - although having LA poet Will Alexander as a good friend and mentor has been exceedingly more impactful. Both her visual and linguistic work has recently appeared or is forthcoming in such places as Beyond Words, Caesura, Revue de la poésie in Toto, Lotus-Eater, Zoetic Press, Maintenant Dada Journal, New Urge Editions, Witchcraft Mag, Puerto del Sol and Entropy.  She is the main English language editor of SULΦUR and an editor of The Room. Giorgia recommends the Trevor Project.