Six Multimedia Sculptures, July 2023
Details
N.B.A. D.R.A.F.T. (P[r]ay For Haiti)
[Black] Zoe, Haitian Flag Ski Mask, Yale University Hat, Virginia Commonwealth University Arts Hat, Hunter College Hat, Columbia University Hat, School of the Art Institute of  Chicago Hat, Versace Choker Necklace, Tuxedo, White T-shirt
2023
Archival Print
24x30in
Edition of 26
Yale University: $41.4 billion
Columbia University: $13.28 billion
Virginia Commonwealth University: $2.72 billion
School of the Art Institute of Chicago: $224.4 million
Hunter College: $135.8 million
Modern day equivalent Haiti paid France from 1825-1947 for their freedom: $32.5 billion
Since 1985, the National Basketball Association has hosted an annual event known as the "Draft Lottery" during which the 14 teams who missed the playoffs during that previous season participate in a lottery process to determine the order of the NBA Draft. The event has as a result greatly influenced the NBA along with the cities and economies that these teams exist within. When the Cleveland Cavaliers won the Draft Lottery in 2003 and Akron, Ohio high school phenom LeBron James, this changed the entire trajectory of their city along with the NBA. In 2018, when James returned to the Cavaliers after spending several years playing for the Miami Heat, it was estimated by several leading economists that his return was worth $500 million to the local economy.
While this draft lottery can have a huge impact on the income of sports franchises and cities, they can have similar financial reverberations for the young Black men who are drafted into the NBA. Many of those young men drafted come from some of the United States' most impoverished communities, and thus the multimillion dollar contracts can change the trajectory of their and their families' lives forever.
As a part of the pre-draft lottery marketing campaign, the top prospective draft picks take pictures with the different hats of the teams whose ping pong balls will be blown around and drawn from the lottery machine. The portraits are meant to emphasize the "unpredictability" of each player's future and potential impact on the winning teams and economies. With Nation's Burdened Artists Deriving Reparations All For Themselves (P[r]ay For Haiti), Nic[o] Brierre Aziz remixes this iconic annual display of chance and wealth to reference historical and contemporary wealth inequities along with his pursuit of a Masters of Fine Arts degree at some of the United States' top art schools.
---
Strange Brute (Hanging From the Poplar Trees) II
Tree, Allard Plantation, [Black] Artist/Activist, P.G.T. Beauregard pinata, Robert E. Lee pinata, Vintage American Baseball Bat, Haitian Flag, Burned Confederate Flag, Bench
2022
40x60in
Archival Print
From the Juguete Series
Edition of 12
---
My God Wears A Durag
Durags, Pew, Video
2022
Varying Dimensions
Sculpture + Installation
My God Wears A Durag explores the ways in which colonial and Eurocentric ideologies are constantly at the center of conversations around what is "appropriate" for other bodies and cultures. In this piece sound and video clips related to the histories, controversies and dichotomies regarding three distinct types of head coverings are combined to interrogate what is "appropriate" and/or "fashionable" along with the confusion that colonial consciousness creates. Additionally, the piece is a meditation on love, intentional parenting and the ways in which our childhood experiences influence the freedoms we choose and choose not to exude during our adult lives.
---
Drive Slow Homie (Late Registration)
2023
Robert E. Lee Boulevard Street Sign, Alphabet Blocks, Graduation Tassels with 2022 year charms
A 1907 New Orleans Land Brochure called New Orleans "The New York of the South" while comparing the growth of the Lakeview neighborhood to Manhattan. These marketing  materials also referenced a stipulation in the original neighborhood title that "bars forever negroes as residents." 16 years later, a mile-long stretch of Adams Street and a 3-mile stretch of Hibernia Street were collectively renamed to Robert E. Lee Boulevard.
In 2022, the New Orleans City Council voted unanimously to rename and remove Robert E. Lee Boulevard and replace it as Allen Toussaint Boulevard.
On the "road to progress," who determines the pace?
---
RAFTERS (Hyppolite + Gilbert)
2021
Tattered New Orleans Saints jerseys, sugar cane, sugar cane leaves, brown cotton, white cotton, indigo, transatlantic slave trade shackles, machete, plexiglass vitrine display case, "Colonial Maple" wooden base
Through the remixing of an NFL Hall of Fame case and the visual language associated with these types of displays, this selection of jerseys from my RAFTERS series seek to interrogate "value" and "acclaim" as constructs in an effort to spark reflection and discussion around the ways that Black bodies have been the most utilized colonial capitalist tool within Western culture and consciousness. I also seek to use these jerseys and this series to increase dialogue regarding the underdiscussed history of the 1811 German Coast Uprising while additionally illuminating the fleur-de-lis' brutal period of being branded onto the bodies of runaway enslaved Africans. In addition to this indisputably being our city's most prominent symbol, the simple fact that we have an entire football team of almost all Black players wearing this symbol on the same position of their bodies as their enslaved ancestors who could have been branded with it is devastatingly eerie.
---
Maroon, Mawòn (2 Sides II A Book)
2023
Diptych, collage; graduation tassel fibers, cowrie shells, Dogon Tribe beads, and silkscreen on American Target Company shooting range target posters, colonial maple pine
Courtesy of the artist
48 x 24 in. each
Depending on which of history's sides you resonate with most, "maroon" as we know it today has French and/or Taino roots. According to one book, the word comes from the French "marron" which meant "feral" or "fugitive." Another book would state that maroon as we know it originates with the Spanish "cimarrón", via the Taino people, meaning "untamed." This layered multiplicity is a microcosm of the construct of Blackness - especially within a country such as the United States. When I hear the word maroon, I think of enslaved people who escaped and liberated themselves to establish their own communities in countries such as Haiti, Brazil, Jamaica and the United States. This term and color, which has these varied meanings and relationships to "freedom," instantly came to mind when I familiarized myself with Jy'Harin's story. With that, I intended to create a piece influenced by some of his specific feelings and desires - his love of football, his desire to go to college and be an air traffic controller, his 8 sisters. I also sought to illuminate the Black body, expression and image's relationship to aspiration, captivity, control and capitalism. In 2019, I found and purchased these original arrest reports featuring Black men from the 1930s-1960s and their eyes were, ironically and eerily, listed as maroon. The composition of these arrest reports juxtaposed with Black men from Morehouse College from the same time period, all screen printed onto a Black body silhouette produced by the American Target Company, intend to question the ways we might continue to be "targets" in our respective quests for liberation. The presence of elements such as the Dogon tribe beads, the cowrie shells and the loosely strung Black and Maroon fibers within the Colonial Maple Pinewood frame additionally reference the fortitude and eternality of African aesthetics along with the tensions that those of the diaspora must navigate within an imperialist based world.
This work creatively reinterprets the experience of Jy'Harin and was commissioned by the Newcomb Art Museum of Tulane University for the exhibition Unthinkable Imagination: A Creative Response to the Juvenile Justice Crisis which was on view January through June 2023.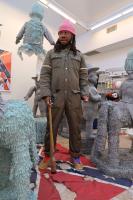 Nic[o] Brierre Aziz is a Haitian-New Orleanian interdisciplinary artist and curator born and raised in New Orleans, Louisiana. His work is very centered around the Caribbean Diaspora and he is very interested in Blackness as an experience, construct and capitalist tool. He obtained a Bachelor of Arts degree from Morehouse College, a Master of Science degree from The University of Manchester (UK) and will be pursuing a Master of Fine Arts Degree with a concentration in Sculpture from the Yale University School of Art starting in Fall 2023.