Six Images from "Quilted"
A few years ago, I told an artist that I create art, too. He responded with a smirk, "What … a women's art." I was dumbfounded,and for a moment ready to deny  … no, my art was serious. I kept thinking about this exchange until at last I reached peace within myself as I let go of other's perceptions of art, and looked at the profound and beautiful perspective women artists bring to art.
My series titled "Quilted" strikes a conversation between art and what is traditionally referred to as "woman's work." The artworks combine paint and photographic images, that in their abstract nature resemble fabric. Similarly to quilt makers, I choose the materials for visual effect as well as for expression of personal and group experience. In the "Quilted" series, I use photographs taken around the city -- the place that has shaped my life and has had a significant influence on me as an artist. The camera's focus is on the most basic elements of the city such as: the ground we walk on; the sky; the river, ... These are the elements of the city that stay constant while at the same time they are constantly changing under the influence of the inhabitants.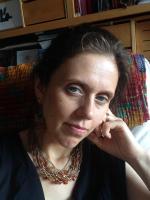 Basia Tov was born in 1973, in Warsaw, Poland. She began her art education as a child at an artist-cooperative in her native city. She immigrated to US after completing high school. She graduated from the Fashion Institute of Technology in New York with a Bachelor of Arts in Fashion Design. She changed a few careers, received a Masters in Education, and started raising a family while continuing to write, paint, and photograph.
Basia Tov has exhibited her art on East Coast and West Coast. Her art encompasses paintings, mixed-media, and photography (www.basiatov.com). She also designed book covers, illustrated two children's books and wrote and illustrated a couple more.