"Sin Embargo" and "The Rinsed Messiah"
Sin Embargo
I like badness. Don't all the really good
films have the word "bad" in their titles?
The Good, the Bad, and the Ugly. Bad
Day at Black Rock. Bad Lieutenant.
Baadasssss! The Bad and the
Beautiful. The Bad Seed.
Evil's another story, a story
whose orphan narrator is misery,
married to pain, son of suffering,
sibling of spleen. I have seen evil.
You have too, so you know there's
only one way to get rid of it.
Retrieve the ragged dagger. The night
is just weak enough for insurrection.
---
The Rinsed Messiah
    They are come—the men who rue infinity.
"What is the function of the empty mountain?"
          ask The United Dreck of Amalek.
         Flâneur! Flâneur! Flâneurs of rinsed spirit!
Paparazzi apparatchiks from the Kingdom of Dubeity!
  What percentage of eternity is this our earthly life?
The hard clouds breed insolence
             into the fruition
                of nutrition.
Dear Psychomachia:
     Who is Deep
         Threat?
infected investing
                    the return of the
          oppressed
analysis by paralysis
                    much doodoo about
          everything
 *
 *
 *
Induce me      Induce me
There's a uterus in your future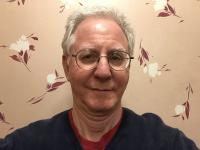 Bill Yarrow, Professor of English at Joliet Junior College, is the author of eleven books of poetry including Blasphemer and The Vig of Love. His poems have been published in Poetry International, FRiGG, Gargoyle, PANK, Confrontation, Contrary, Diagram, Thrush, Chiron Review, RHINO, and many other journals. Bill recommends Susan G. Komen for the Cure.