We drank too much at Wildsisters the day before our first overnighter together, so we gorged en route on drive-through fries hoping for a salt and fat fix. Autumn leaves were showing off their fiery West Virginia tresses mid-October, and I took it as a sign. I was ready for a change, ready to take a chance, ready for a relationship.
My plan had been to go it alone for a getaway weekend in the old town with its warm mineral springs, to soak in curative waters after a deep tissue massage and steam sauna in the shabby chic Gatsby style bathhouse. Now that someone was joining me, I changed my appointment for a spa day for one to two. I also switched the inn reservation from a queen to twins, since a mood would already be set by frilly bed skirts and potpourri, and not wanting to push my luck on what would be only our second date.
We drove along the main drag during the Apple Festival where vendors lined the sidewalks with jewelry, antiques, artisan lotions and soaps, local artwork, and, of course, homemade apple pies and cider, apple sauce and butter—the smell of ripened apples intoxicating.
After check-in, we managed to book the last horses for a ride through the nearby state park—slow and easy, a white-tailed deer here and there couldn't spook our nags from Good Luck Stables—something I took as another sign, especially since our couples bath, steam, and massage appointments would follow.
The inn's tavern was still open after we dried off, dressed, and grabbed a bite; so we dropped in for Irish coffee nightcaps. Everything seemed to be falling into alignment like stars in the heavens. Another sign, or so I thought, until the bartender—an older gent in military clip mustache—asked us to leave, calling our high-spirited interaction  too boisterous—as he stood wide legged glaring at us and fingering the 333 insignia on his belt buckle. What really was going on was that he didn't approve of two women snuggling close to each other in the booth, two women who were clearly more than just friends.
"Not a good sign," I found myself saying under my breath, since he knew our room number from the bar bill.
Walking to the room, we recalled seeing this man before, on our way in at a panhandle bar where we stopped for some hair-of-the dog-that-bit-us.
He had been laughing it up with cronies about a cross burning on a young Black woman's family farm, when we overheard him say: "I want to split that dark oak."
At that we headed out fast, leaving our half-finished mason jars of Hillbilly Lemonade and Moon Cider behind.
After arming our hotel door with my Trip Savvy travel alarm, we decided to put this man and his ways behind us. Instead, we talked about all the things that were going right on our escapade: the brilliance of leaves in the wild hills, the sweet and lingering smell of apples, how we so enjoyed indulging our bodies together.
Without second thought, we pushed the twin beds together. Under all the fluff and frills, we pulled in close to each other. It was as if we had waited all our lives for this. A really good sign.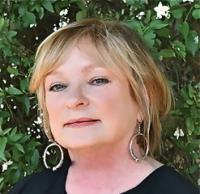 Andrena Zawinski is a poet, flash fiction writer, and shutterbug. Her flash fiction, always steeped in memoir, has appeared in The Green Shoe Sanctuary, Flashes of Brilliance, Ginosko, Pretty Owl, Oye Drum, Windward Review, Midway Journal, and others. Her fourth full collection of poetry, Born Under the Influence, and debut collection of flash fiction, Plumes, are forthcoming in 2022. She recommends Lambda Literary.