"Shipwreck," "Without Myself," and "I could remember my futures"
Shipwreck
Stolen out by a cool, reflective surface,
to darkness beyond the breath of life.
I'd like to rest in the wake of a storm
with your head on my chest
and the waves' shrill collapse.
We're falling through the water and nothing,
strips of paper washing away.
 
Run in strange circles for a taste of cool air,
harsh wind cuts through between our words.
The pull of black water may take me away
to hard motion in darkness and silent descent.
 
I read a blue book about dying. I thought I was brave.
Among brambles of night this air is too thick to breathe.
I don't want to lose you.
 
Black ocean tide stretches out.
There isn't a name for something like this.
Clouds fold over the moon
with storm whispers and cold.
 
I woke up on the shore with a broken arm and painful throat.
The sky turns clean and bone white for dawn.
 
I tried to write books about you.
My hands always slipped at first.
On the left you can see the world
and on the right taste long cool breath.
 
I am gone tonight, drinking to your soul.
Do you remember yourself?
I learned your name under a crescent moon.
Your voice is the breeze on my remains.
I think you were holding the dreams
when we got cut apart and lost.
---
Without Myself
Some days I'll step from sleep to sleep and
Sweat to stand translucent. Distended early mornings,
My eyes grow tense like standing water.
 
Inside the world without myself, as
Passenger beneath the starlight of fear.
These weeks the seconds speak like wind.
 
Obscurity is under my skin,
My rhythm and motive unraveling.
In vibrating rooms, alone with
Ambiguous sketches of silence.
 
I have seen myself reflected in burning food to ash,
Nervous, twisting fingers in this tunnel under the moon.
I am present in fragments, dissolving words in water,
Walking home wrinkled to the surface of the world.
---
I could remember my futures
I could not breathe or see, with
Disorderly quiet. Mistaken,
I placed myself in desert to lie.
 
Watery, bitter time crawled through
Until I had forgotten my good heart.
From wandering in myself I grew
Dehydrated stiff and distance.
 
My thoughts were strained brittle, unfamiliar,
Like the hard shore of the moon from standing
In a flattened valley of asphalt and glass.
 
Flickering mornings, weightless and worn.
The cold smell of my blood was
Translated slack into screen static.
 
I could remember my futures and tremble
For the liminal paths my wan soul scratched throughout them.
I could linger near vomiting from silence alone.
 
My disappearance to systems is over.
Their weather of emptiness passes away from me,
In patterns that I feel. I saw nothing at the center and,
Having reflected that absence in myself,
I'll look outside this lonely world for life.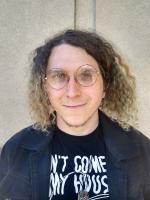 Rats Alice Trujillo is a grocery store worker, queer social dissident, and esoteric multimedia artist. They are active around Seattle and their writings appear sporadically in print and digital. Between writing and other work they arrange and perform leftfield electronic music as 'Uncanny Dandelions'. Rats recommends mutual aid over charity, but a group in need of funds is From The Heart PNW. They accept support through their venmo account @fromtheheartpnw.