Seven Photographs, December 2022
Charles Muir Lovell's work has appeared in 25 solo exhibitions since 1980. Back When the Good Times Rolled II, Second Story Gallery, New Orleans, in November 2021, featured 74 of his New Orleans second line photographs, and a companion exhibition in November 2020 feature 63 from this series in Back When The Good Times Rolled I. During 2019, The Art of Procession: A Visual History of New Orleans Second Lines was shown at the Museum Innovation Forum/MCNx at the New Orleans Jazz Museum. Off the Street: New Orleans and Venice in Charles Lovell's Photography, Second Story Gallery, New Orleans, curated by Dr. Anna Mecugni, was shown at the satellite exhibition of Prospect.4 New Orleans, 2017 to 2018. During 2017, he organized the exhibition Preserving New Orleans' Second Line Culture for the New Orleans Jazz and Heritage Gallery.
Lovell's work has appeared in over 100 group exhibitions since 1980. Selected group exhibitions from 2020–21 include Dancing in the Streets, Historic New Orleans Collection, New Orleans, LA; Traditions: Caribbean and Latin Art Exhibition, International Focus, Raleigh, NC; Mysteries in Motion: African American Masking and Spirituality in Mardi Gras, the Presbytère, Louisiana State Museum, New Orleans, curated by Kim Vaz-Deville and Ron Bechet; Color, SE Center for Photography, Greenville, NC, juried by Richard McCabe; On the Line, New Orleans Photo Alliance, curated by Brian Piper, Andrew W. Mellon Foundation Assistant Curator of Photographs, New Orleans Museum of Art; Visualizing, Blue Sky Gallery, Oregon Center for Photographic Arts, Portland; Louisiana Contemporary, Ogden Museum of Southern Art, New Orleans, juried by Rene Morales, Chief Curator of the Perez Art Museum, Miami; We Are All Contagious, UMass Dartmouth Art Gallery, New Bedford, MA, juror Nato Thompson, Artistic Director of Philadelphia Contemporary;  Presenze Veneziane Parte 2º; Tempo e Luogo., Archivio Emily Harvey, Venice, Italy; Miracles on the Border; Princeton University Art Museum, Princeton, NJ, traveling to Frances Lehman Loeb Art Center, Vassar College, Poughkeepsie, NY, and Colby College Museum of Art, Waterville, ME. The Probable Trust Registry, Rules of the Game #2; His work in Reverb: Past, Present, and Future, Contemporary Art Center, New Orleans, curated by Isolde Brielmaier, Director of the Contemporary Art Initiative, New York, 2015, was reviewed in the New York Times article by Cameron Shaw. 
Lovell's works are held in numerous collections in the United States, Italy, and Brazil, including the Tacoma Art Museum, Loeb Art Center, Vassar College, the Mint Museum, the New Orleans Museum of Art, the Ogden Museum of Southern Art, and the Historic New Orleans Collection, which recently added the 100th of his photos to its collection, and the Archivo Emily Harvey, Venice, Italy. 
Lovell has an exhibition scheduled at SUNY Stony Brook that will be opening mid-February 2023, and just had two photos included in the Black Indians of New Orleans publication of Beaux Arts, a Paris magazine.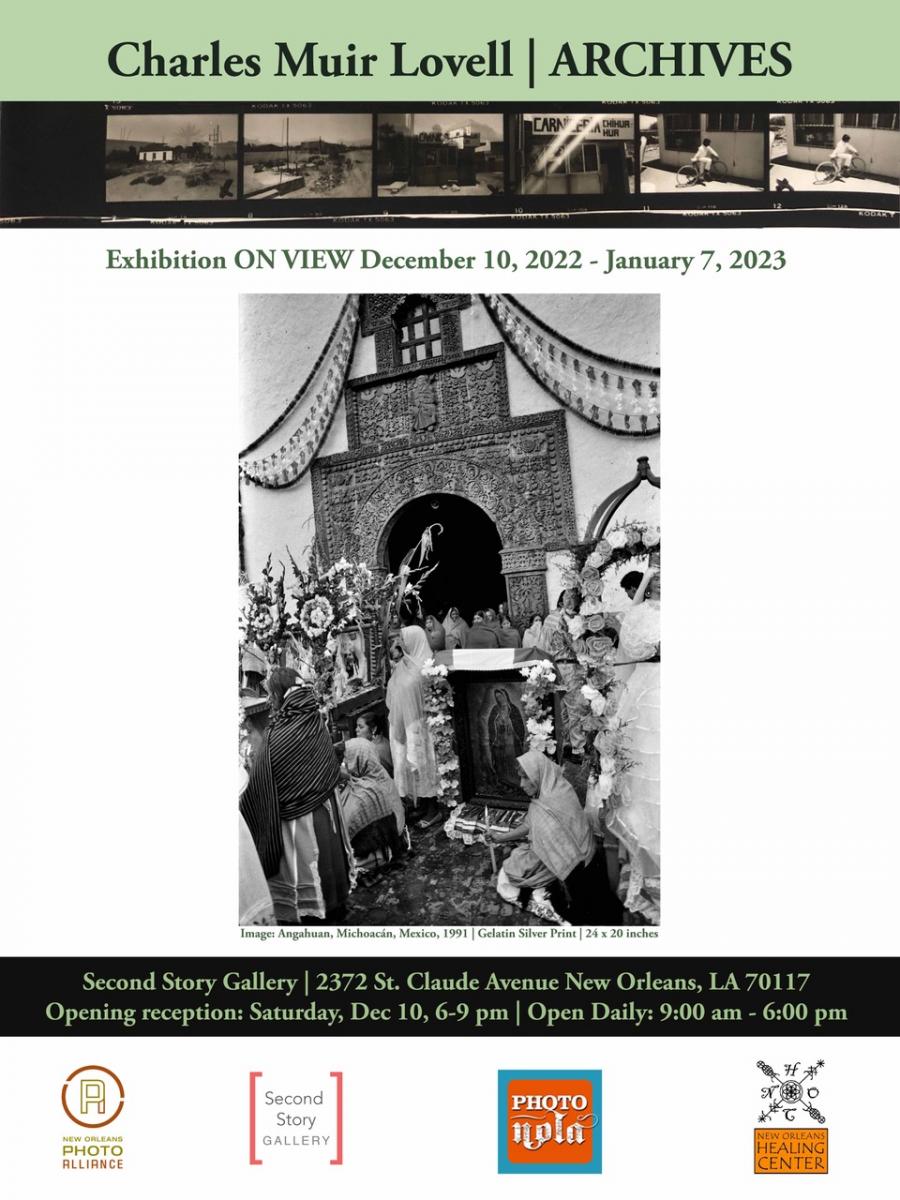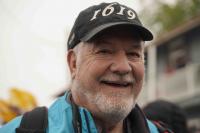 Born in Chicago, Charles Muir Lovell lives and works in New Orleans. He holds an MFA and BS in photography, from Central Washington University and East Texas State University. Lovell began photographing as a young man traveling throughout Europe and South America. He continued his photography during over 20 years as a museum director/curator, a career that took him from the Pacific Northwest to the American Southwest and South, everywhere finding distinctive cultures and photography subjects. He became a full-time photographer in 2015. Since moving to New Orleans in 2008, he has taken over 75,000 color photographs of New Orleans second lines, social aid and pleasure clubs, and jazz funerals, and is also known for his Language of The Street Series he has continued in Europe and the United States, having photographed in Venice and Naples, Italy; Paris, France; New Orleans, Louisiana and New York, New York. Artist's portrait photo by Jennifer Ward.