Seven Paintings, March 2018
Artist Statement
The pieces are from my series of paintings titled "Meeting Notes" which began as sketches created during meetings at my day job. Below is a description of the mask.
"Mask are tools for exploring self-identity. While they have been used traditionally to conceal an identity they can also be used to make visible and amplify unseen parts of who we are. The mask is a map of our individual identity. Each region of the mask and its design represents a unique part of our identity. The mask in its design and make-up is rooted in and inspired by the tradition of our ancestors. It is a retrospective that helps us explore our beginnings to better understand where and who we are now."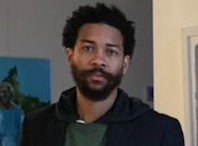 S. Gerard Clark is a native of Chattanooga, Tennessee that currently resides in New Orleans, Louisiana. Sean has a background in art and public health. His aim is to bridge the gap between art and public health. As an artist Sean focuses on his surrounding environment and the issues people face in that environment. The subject matter of his art ranges from the external natural environment to one's own internal environment, which includes topics such as African-American history, health, and the idea of home. His art is further aimed at creating questions and narratives in the minds of the viewer.