"What is your name?"
asked the digital interviewer.
"Brahma," the interviewee confidently responded,
expecting a flowery welcome and a spellbound band.
Brahma had come down from heaven
to earth to check the wellbeing of his creation
as of late he had heard many a tale of lamentation
from a host of reporters across globe one.
He had landed in the famous Silicon Valley
perhaps taking the name of the place for peace and tranquility.
"Is Brahma your last name?"
asked the interviewer without lifting his head
and looking up at Brahma's multiple heads and arms.
Had he only a quick glimpse of the visitor,
he would have saved his time,
and earned blessings for a place in heaven.
"What is your first name, and middle name?"
Brahma stood confused and lost.
He had no idea what the interviewer
meant by the first, the middle,
and the last names.
It never occurred to him
someone would fail to recognize him
by the mere sound of his name.
His pride was hurt,
but he didn't show it.
Anyway, he picked up from his large stock
of names and ancestral history, and said,
"Take Svayambhu for my first name,
Vaghisa my middle name,
and Brahma my last name,
and shift their positions whichever way you please,"
hoping that this would settle matters
and there would be no further queries
to establish his identity supreme.
"Good," the digital interviewer said,
and went on to ask Brahma,
his father's name, his mother's name,
date and place of birth,
his PAN number, Aadhar number, SSN,
his status Resident, Ordinarily Resident,
Non-resident, or Foreign,
and wanted to see his passport
and driver's license and the like CCIP.
Brahma was in a mood to download
gigabytes of information
about his status and parentage, in particular,
and overwhelm the interviewer,
but he restrained himself.
He wondered who could
this character be--could
he be one of his own creations?
In a dilemma, he confabulated
with the two other associate functionaries
Vishnu the preserver and Ishwar the destroyer
to decide how to navigate the inconvenient situation,
but before they could conceive of a coordinated action
the interview suddenly came to an abrupt end
with a blunt message, "Session expired!"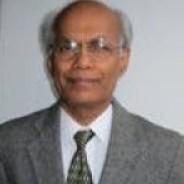 Saligrama K. Aithal has published five collections of short stories Many in One, One in Many, Inside India, Overlapping Worlds, Passage to More than India, a literary biography Riyana, the Child Once Everyone  Was, and a book on Toni Morrison Toni Morrison, Novelist. For the past twenty years, he has been living in the famous swamp of Washington, DC, a place, according to him, no worse than any dry or parched land—a place, in fact, filled with endless supply of topics and themes for a writer.