On a beach north of San Francisco, milk was putrefying in the trailer of a refrigerated truck that had long ago run out of batteries, and the wind was drying up my eyeballs. I walked unsteadily across the sand, feeling like someone else's mirage.
I tripped on a rocky flat and fell to my knees. My face reflected in the tidepool eyed me with scorn. Beyond it, a limpet clung to a stone ledge. With tenderness, I reached toward it from behind. Weakly, it yielded. In my palm, it was the color of sickly yolk. Its face was curious and good-natured.
With my knife, I carved it away from its shell and held it until it stopped moving.
Good night, little one. Sweet dreams.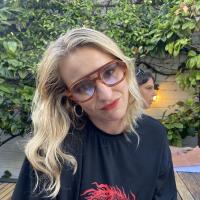 Kim Carson Bodie is an American journalist living on unceded Whadjuk Noongar Boodja land. She has worked a lot of odd jobs and lived a lot of odd places. This is her creative debut. You can find Kim on Instagram @all.is.gravy and she recommends you donate to buglife if you don't want to end up like the characters in this story.