Readings in Alabama and Louisiana
In October 2019, Wendy Taylor Carlisle (author of The Mercy of Traffic, Unlikely Books, 2019), Jeff Weddle (author of Citizen Relent, Unlikely Books, 2019), and dan raphael (author of Manything, Unlikely Books, 2019), read their poetry on a five-city mini-tour in Birmingham and Tuscaloosa, Alabama, and New Orleans, Baton Rouge, and Lafayette, Louisiana. The footage in this video is from Wendy Taylor Carlisle's performances in Baton Rouge and Tuscaloosa.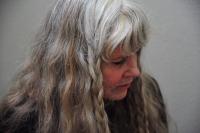 Wendy Taylor Carlisle lives and writes in the Arkansas Ozarks. She is the 2020 winner of the Phillip H. McMath Post-Publication Award for The Mercy of Traffic and this spring, Doubleback Books reprinted her 2008 book, Discount Fireworks, available free at: Doubleback Books. Her website is www.wendytaylorcarlisle.com. Photo by Greg Comnes.