Must I continue to waste time and space at the flea market?
I remember Rene Otto Castillo. Because the lines and their sizes
are all there though we have made several attempts to erase
with all our might. A smell from the pot on a hearth is out there
from the window and everybody in the street breathes the beetroot
soup. It is launch. It is ethereal nose everybody wears all this noontide.
You, who is now killjoy, who is more than anyone, embodying
the used bodies for age, in fact, appropriate for chores and podcast,
is found to be fresh for Banky's Auction-Room, where paper
bees fill the space for huge prices. Remember the body of florilegium.
Remember the founder of this earth. When tree roots brighten like
this sky with night stars, a line of the amethysts is drawn again.
Remember the flowering head you wear. I bring my indecisive blues
of scientific slumber. I middew the distances among us with milch cow
and migrate from open place to television scenes for stomach blundering.
This is a lot of mileage out there by the vibration of whatever body is yours
to put in motion, set up, in turn, vibrations of memories, easily enough
by touching with bare body, we produce the pianissimo, though the pitch,
duration, and intensity are all half tone-colour. Remember this passage.
A passage first played on an oboe from the rooftop of your head.
I remember how you obtained yourself by striking a key sharply than
by striking it gently, remember the rapacious shark about this ship.
Get that phenomenal right. You sound like a man still struggling to wake up,
I hear you all right. What body do you wear for the table? Please, it is still
noontide, not midnight. This is future. This is how we remember each other.
We get enough long hair from our roots, I mark that alkaline woman
and I take her for a wife, no sugar. I stay with alkaline. Yeah! No acid.
No whispers from the neighbourhood. It is just alkaline albums
on the dining table. Let us go get the sky in blue. Yeah, in your blue,
in my blue. But remember the shore. That way back home, if here is
not a home for you. Remember, that home is a place where when you go
you are welcome. A drummer at the first rehearsal, naming without hesitation.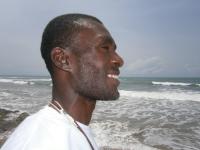 Jacob Kobina Ayiah Mensah is the author of the new hybrid works, The Sun of a Solid Torus, Conductor 5, Genus for L Loci and Handlebody. His individual poems are widely published and recently appearing in Rigorous, Beautiful Cadaver Project Pittsburgh, The Meadow, Juked, North Dakota Quarterly, Cathexis Northwest Press, The Sandy River Review, Strata Magazine, Atlas Poetica, Modern Haiku, etc. He is an algebraist and artist and lives in the southern part of Ghana, Spain, and Turtle Mountains, North Dakota.