"Porsche crashes into 2nd floor office of Exit Realty Elite," "Passive aggressive idealism," and "Things that don't make sense when you are hungover"
Porsche crashes into 2nd floor office of Exit Realty Elite
Some paintings paint themselves
Some art exhibitions hang them up
To sell in refurbished buildings that realty and reality and the city provides
These lobbies, painting after painting of highbrow art cloned for highbrow clones
One day we will pick apples from buildings
We will bite into their red pink purple shine bricked goodness
No seeds, only mirrors
The harbored resentment drowned for miles
There are 3 bloodied fingerprints above the mail slot
There is a group of tourists taking pictures
There' s enough museum space so we all can hang
Something that resembles a Jesus picks us off of buildings
And someone has printed this poorly painted picture
Places it next to the customer bathroom
---
Passive aggressive idealism
Spray paint lead based golden clouds blister bloom
Your time is dwindling and your heyday too
No literary art magazine can save you now
No pierced owl stare will peak your vision through
Your time is dwindling into a painter's cup
Splattered throughout the doom
The fish head floats the sound in blue
Maps of your beleaguerment are meant for frontal lobe attacks
I am not like the sun; I don't care where your shadow is at
Embroider all your thread willingly through one ear and out the through
From thousands they climb, from thousands they fall
Each in a petty pastel row, your time is dwindling
You can feel it in your blades, your shoulders pike
My hope has grown deep, my hope hangs on these power lines
Our time is dwindling and it's time to learn how to kill towards the sea
It doesn't matter the falcon, eagle or gripe
It matters the wings, it matters the spite
Our time is dwindling as the greying great owls take flight
This time here is dwindling and I have become prayer for somebody else to prey
My beak is cold and this reciprocity breaks
Squiggly lines that make no sense, time is dwindling
And no one gives an ache
---
(After Jee Leong Koh)
Things that don't make sense when you are hungover
Airplanes. Water. Your hands. Turning 42.
The tilt of the. The stability of.
The color red. Laughing. Your hands.
Shiny things. Smiling. More. Beer.
Religious figures on lawns attached to an electrical socket.
Religious figures on lawns used as Christmas Decorations.
Eggnog. Gift wrapping. Your mother's hands.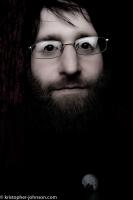 The winner of a performance grant from the Staten Island Council of the Arts and the NYC Department of Cultural Affairs, Thomas Fucaloro has been on six national slam teams. He holds an MFA in creative writing from the New School and is a co-founding editor of Great Weather for Media and NYSAI press. He is an adjunct professor at Wagner College and BMCC where he teaches world lit and advanced creative writing. He teaches poetry at Prison Writes. His latest chapbook, There is Always Tomorrow was released in 2017 by Mad Gleam Press. Since 2016, Thomas has helped in building a community of poets in Staten Island, focusing on making poetry accessible to all, either though the Life*Vest*Poetry Slam, The Who Needs Healing? Reading Series, or the free workshops offered at Staten Island Libraries and other various organizations.