"Pilgrimage," "Burning in Total Blackness," and "In Deserted Rooms"
Pilgrimage
Engraved in the miasma
             our    souls    are like
blood on                     embers
              obscuring any silver-lining
 
       It is hard     to     find
days that     do no harm
      huddled in     the     corner of night
my mind is loose fabric, soon to be shed
 
     Silence     will     soon emerge
             and       recede
the years     dwindle
                    in the palm of my hand
---
Burning in Total Blackness
Strewn across
Desirous dreams
Are concentrations of lead
Each form of escape
Is more dire than the last
 
These callouses
Are hard to keep inside
Default modes of being
Often betray feeling
 
We stand
Pressed against desires
Miles past the wreckage
Thoughts bear little semblance
To words spoken
 
Sifting through
Faint decay
A modicum of images
Are all that's left
---
In Deserted Rooms
I know a lot of times
I appear in-between
One thought and the next
 
Finding warmth beyond
Your own name
Is a life-long task
 
These minutes are heavy enough
To carry all our longings
One by one, we confront decay
 
Even the succinct pain
Rises by degrees
The trampled flowers are only a mirror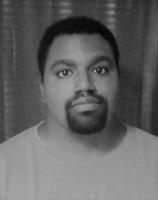 J.L Moultrie is a 30 year old poet based in Detroit, Michigan. He fell in love with reading and writing poetry after encountering Hart Crane, Rainer Maria Rilke and others. His work appears or is forthcoming in Rigorous, White Wall Review, Sonder Midwest, Gravitas, Datura Literary Journal and elsewhere. He is a dog and cat dad and holds an Associate of Arts degree from Wayne County Community College. J.L recommends the Michigan Humane Society.