"Pachuco Skull with Sombrero: Los Angeles, 1970," "South Central Driver, 1968," and "Otra Negro"
Pachuco Skull with Sombrero:
Los Angeles, 1970
freeways to bones
and then again
the spray-painted image
around atwater, echo park
becomes all drivers
as testament
where one can own
any dream
towards pasadena
or griffith park turnoffs
that mumble a local's song:
our lady of the angels
our skulls at st. vibiana
the st. joe's fiesta
of spinning wheels
and every word a memory
of fitting in.
let us pass
in quickness or fly over
concrete and lanes
and think about who became
who remains stamped
by the blood
by the shots
on the streets
we knew
we owned as home
---
South Central Driver, 1968
After Robert Kennedy, RIP
endlessness on normandie
endlessness on vermont
endlessness on budlong
has ended now
at the ambassador
in our living room
(old black and white zenith)
that murders the city.
all brakes now for the killing
the shots
the spirit of the hearse
might give our neighborhood walkers
the breath
the water
the blood
the reasons
to never believe again
---
Otra Negro
the remembrance is a killer
on the mountain
or mountain killer
leaning backwards
for sundown's again now
begin in purchase
of others and how
they became a city
like cornered in juarez
or the rough stoppage
on a dead end street
like this is your other
this is the price of looking
of behaving in a rational
and irrational way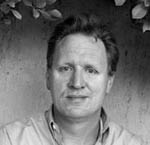 Born and raised in South Central Los Angeles, Lawrence Welsh lives in El Paso, Texas. A first generation Irish American and award-winning journalist, Welsh has published nine books of poetry, including Begging for Vultures: New and Selected Poems, 1994-2009 (University of New Mexico Press). Lawrence Welsh's poetry, fiction, reviews, essays, as well as journalistic writings, have appeared in more than 200 national and regional magazines, journals, newspapers and anthologies.
Welsh is an English professor at El Paso Community College.  He's also lectured, read and taught at UCLA, New Mexico State University, the University of Texas at El Paso, the University of Missouri-St. Louis and Murray State University. His new Unlikely Book is Pachuco Skull with Sombrero: Los Angeles, 1970. Photo by Richard Baron.