"Oracle" and "When America's Schoolchildren Feared Khrushchev"
Oracle
To anticipate and prepare for an America without Roe,
my mother warns in a voice as assertive as the Pythia,
it's necessary to remember America without Roe:
self-induced or back-alley abortions for those without
means or alternatives. Agonizing, often gruesome,
deaths of women. Travel agencies that helped the few
with money and unwanted pregnancies, flew them
to countries where the procedure was decriminalized.
If you lived through it, she insists, you don't need
clairvoyance, even a uterus, to prophesy. To know
that, like the ancient, stubborn rulers who ignored
Delphi's warnings, believed the future favored them,
those who welcome it may well regret not heeding
prophecy, may tearfully, bitterly, curse themselves.
---
When America's Schoolchildren Feared Khrushchev
I used to shudder at my mother's recounts of duck-
and-cover drills that her class and teacher, Sister
Augusta, practiced in the event of nuclear war.
 
I used to feel blessed because I never had to worry
about the atomic temper of a shoe-banging Soviet
dictator, his plump finger on the large red button.
 
I used to give gratitude because I never had to fear
massive missiles pointed to the skies, a warhead's
detonation reducing my class to ash and shadow.
 
         But, now that I have school-age children,
 
I begrudge my mother's class the mushroom cloud-
shaped menace that had them under desks, active-
shooter drills at my kids' school far scarier to me.
 
I feel powerless, would take the arms race any day
over anonymous threats of mass shootings on Tik-
Tok, my children's school and classmates named.
 
I envy my mother her fears, a loaded AR-15 snuck
onto campus more frightening than active missile
silos to me, a hot muzzle more than a Cold War.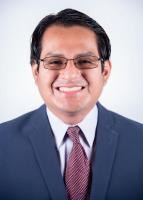 Originally from San Antonio, Texas, Jonathan Fletcher currently resides in New York City, where he is pursuing a Master of Fine Arts in Creative Writing in Poetry at Columbia University's School of the Arts.  He has been published in Arts Alive San Antonio; FlowerSong Press; Lone Stars; University of Texas Rio Grande Valley's literary magazine, riverSedge; Our Lady of the Lake University's literary journal, The Thing Itself; TEJASCOVIDO; and Voices de la Luna. Jonathan recommends the San Antonio Food Bank.