Artist Statement
"We are all buried treasure."
My works draw from the history of art: the flowing shapes of Art Nouveau, the embellishments of the Victorians and the line quality of Klimt and Schiele. These sculptures are conceived with a commitment to social justice and are inspired by the spirit of scientific discovery. They are meant to encourage conversation and to inspire radical rethinking of the meanings of disability and adaptive aids.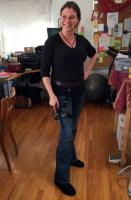 A. Laura Brody sculpts for the human body and its vehicles. Her mobility art (re*made wheelchairs and walkers) were shared by Frances Anderton on NPR and on The Improvised Life. She developed and co-curated Opulent Mobility, a group exhibit dealing with mobility and disability, with Anthony Tusler.
She developed staple draping, a technique that uses scissors, staplers, staples and reused fabrics to create living sculptures and clothing on people and vehicles. She's staple draped her way from Los Angeles Derby Doll events to the Summerset Festival in Baraboo, Wisconsin and even as far as Wellington, New Zealand. Her live performance draping event, Presque Prêt a Porter, won the CSPA Sustainability Award at the first Hollywood Fringe Festival.