On Watching Beau Blue's "And Money And Money And Money And Money"
Beau Blue is a visual or animated poet. In his new series, the news series, "And Money And Money And Money And Money," the poet put out five news video poems in rhyme that parody modern news. The humor is subtle, it takes a listener here, a real fan of poetry to appreciate his wording and rhythmic breaks, or his titles on the web display (the work is formatted as a webpage with video): "FOLLOWING MONEY,"  "LIES AND MONEY," "MURDER AND MONEY," "POWER AND MONEY," "MEN AND MONEY." The video poems deal with the more recent Trump scandals, the Michael Cohen testimonies, the murder of a Saudi journalist. The news is presented grosso modo, but the pleasure and humor in the work is in the poetry more than the facts and in how Beau Blue's specific word choices play on how one had perceived the events. All and all this is an interesting take on recent American news with more concise wording and less blabber.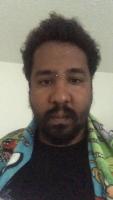 Darryl / Dadou / Baron Wawa is a Port-au-Prince born Haitian-American who studied Photography and Creative Writing. He enjoys chocolate and good books. That said, maybe a movie is a good book. He loves to work with images and words and their pairing.