Gottdamn​
Ever been shattered by a woman's
Voice surge so deep smacks the 
Soul out your bones rattles your
Frame like shingles on a hurricane night
Drip the rich conscience in
Me baby let's make it double burst
The brim stretch meaning human
Being surplussed mind body baby mama
Blues I'm flushed, straight up
Tryin' my best here this endeavor this
Enterprise like zero G Jean-Luc Picard
Zero f's Goddard the aimless new wave angst
Antsy's become me you beautiful woman
Tortured turns of phrase majestic melodies born
Buzzin' bug blood booze-soaked Alabama breeze
Unchained mountains Indian blanket skies neon
Wandering fireflies free range cash cows crawl
Down a dusk-draped Texas farm road
Called home
Baby, I'm Christ-haunted
I wanna go home.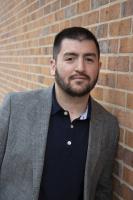 Alex Z. Salinas lives in San Antonio, Texas. He is the author of WARBLES, a full-length book of poetry (Hekate Publishing, 2019), and Dreamt, a limited-edition chapbook (Analog Submission Press, 2020). His op-eds, short fiction and poems have appeared in various print and digital publications, and he serves as poetry editor for the San Antonio Review. Alex holds an M.A. in English Literature and Language from St. Mary's University.