"Occiput" and "Red Code Warning"
Occiput
Rung of a ladder
young ladies with frizzy
hair, the forehead, the
upper half of the
skull all exposed all
there underneath the ladder
step
grade
lever
we climb to the
top
by
any
    means
        necessary
---
Red Code Warning
Rainstorms
and
mountain views
from
hospital rooms
sliding across drugstore
floors
buying medicine
and peanut butter
cookies
after a trip to
urgent care
those instructions on
prescription bags are
hard to read
you can give
yourself a headache
with the warnings
not as prevalent
or
cautionary
as a storm warning
lightning
struck
you can be hit by
lightning
and
survive
every day we are
all struck
just a little
bit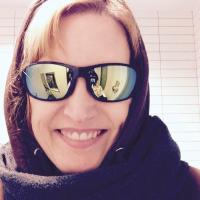 L.B. Sedlacek has had poetry, fiction and non-fiction appear in many different journals, zines and newspapers. She is a former Poetry Editor for ESC! Magazine and also co-hosted the podcast for the small press, "Coffee House to Go." She founded and publishes the free resource for poets, "The Poetry Market Ezine." Recent poetry books include Happy Little Clouds (Guerrilla Genesis Press) and The Poet Next Door (Cyberwit).  Her first short story collection is Four Thieves of Vinegar & Other Short Stories published by Alien Buddha Press. In her free time, LB enjoys swimming, reading, and playing guitar and ukulele. She recommends the Caldwell Humane Society.