"Non-Compliant" and an excerpt from "Discovery"
Non-Compliant
America's the one country I know
That had been consistent,
Number one at being
 
Non-compliant
 
To agreements on the environment—
At those international shindigs with
All the countries in attendance,
Count on America's reps
To start heading
For the nearest exit door.
 
Non-compliant
 
To the call to solve
The problem of global
Climate change.
Cut the use of ancient
Dinosaur bones that make our cars go?
"Unrealistic! Let the other countries cut theirs!"
 
Non-compliant
 
To the needs of sky and earth—
Atmosphere's so full
Of greenhouse gases,
The lower world feels
Like we're living in a blast furnace.
Everything burns, everyone wilts.
 
Non-compliant, unwilling
 
To work to shift this escalating crisis—
Bringer of violent wind, sudden wildfires,
Smoky orange sky, drought, flood waters,
Loss of forests,
Loss of animal species,
Biodiversity out the door—
 
Non-compliant, only willing
 
To concentrate on the bottom line—
All petrol companies, supporting
Banks, Federal Reserve, politicians
Care about is profit. On the move to great
Capital gains, laying miles of pipe under
Lands [ no matter whose ], crude oil to flow between nations—
 
Non-compliant, slowly killing
 
Our planet's health—
Wind farms, electric cars,
More biodiesel vans and trucks,
More solar panels on buildings
Point the way
Sparing us from oblivion—
---
an excerpt from Discovery
Patrolling the street
On the Brooklyn beat
Wasn't enough for
Jerry Tibbs.
 
The married N.Y.P.D. officer
On some days would shed
His dark blue uniform & wore
The sable one he was
Born with.
Just a man enjoying his spare time,
His busy hands worked a camera.
 
On Coney Island's
White sandy beach,
He found her.
A Southern transplant
Curious about her
New Northern home.
 
His eyes saw
"Model" in her
Straightaway.
 
His clicking Kodak©
Truly loved her
From the start.
 
Stance per stance,
Pic per pic,
Tibbs' work seemed
Ready to be shown.
 
Then again, he thought
Something had to be
Done about his subject's
Already movie star looks.
 
Jerry Tibbs talked her
Into wearing short-cut
Bangs with her long ebony hair.
 
Cass Carr took her
Picture again and again and they
Sold well in Manhattan nightclubs.
 
And the shutterbugs
And the barflies
They knew why.
 
The playful
Pale lady
Many have seen
 
Cracking a whip like a dom,
Tied with rope like a sub,
Taking a bubble bath in vibrant colour,
Dancing seductively with her partner
A stuffed clown doll in grainy black & white,
 
Splashing happily in water
On Miami Beach shore,
Gracing men's magazine covers
Dressed in a leopard print suit
Or her famous black lingerie & nylons—
 
Men back then wanted to date her.
Women right now want to emulate her.
Bettie Page, Queen Of Curves
Would've never
Lived that title
 
Without being guided in the right direction
By two Black men
 
Virtually unknown,
Totally unsung.
The full text of "Discovery" was published in Fleas on the Dog, Spring 2020.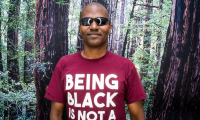 Dee Allen. An African-Italian performance poet based in Oakland, California. He's been active in creative writing & Spoken Word since the early 1990s. He's the author of 7 books--Boneyard, Unwritten Law, Stormwater, Skeletal Black [all from POOR Press], Elohi Unitsi [Conviction 2 Change Publishing], and coming in February 2022, Rusty Gallows: Passages Against Hate [Vagabond Books] and Plans [Nomadic Press]—and 42 anthology appearances under his figurative belt so far. He recommends Save the Redwoods League, 350, POOR Magazine, and Color of Change.