A few years ago I drew a little drawing of a thylacine and at the end I added a blue tint to him. It seemed to work, and eventually lead  into this exhibition, of more drawings and some sculptures. 
Drawings are for me like a window into my subconscious mind: a place where anything goes, a place where my ink pen and wash brush roams free and I don't think much about what goes down. After, I can reflect on the subject, colours and content: these drawings could be about all extinct animals, especially the ones that have died due to human interaction.  Our remaining mammals and birds really need our protection.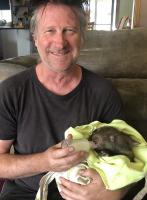 Stephen Harrison is an Australian artist whose practice spans almost forty years, since graduating from the Graphic Investigation Workshop in 1987 from the Canberra School of Art. In 2012 he completed a Masters of Art in sculpture at the ANU, and since has been a finalist in every major sculpture event in Australia. From intimate pen and ink drawings to large bronze outdoor sculptures, Harrison's artworks have a dark intensity and humour. Inspired by everything from Shakespeare and animals to comics and history, his work is marked by a core of a unique visual language and vision.