Nine Paintings, August 2021
Artist Statement
I live in a world that I shape at my liking. I do this through virtual, pictorial, and sculptural movements, transferring my experiences and photographing reality through my mind's filters. I have refined this process through years of research and experimentation.
Painting for me is my first love. An important, pure love. Creating a painting, starting from the spasmodic research of a concept with which I want to transmit my message--this is the foundation of painting for me. The sculpture is my lover, my artistic betrayal to the painting--that voluptuous and sensual lover that inspires different emotions which strike prohibited chords.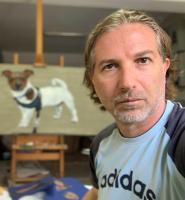 Mario Loprete (b. 1968) is an Italian painter and sculptor. He is a graduate of the Accademia of Belle Arti in Catanzaro, Italy, and since 1999 has exhibited his work, in solo and group exhibitions, in Italy, Europe, and the United States. He has had features and interviews in dozens of magazines and web sites. Check out his Instagram.