Artist Statement
Throughout my career as an artist I have responded to external stimuli by using materials and settings central and crucial to describing those events, in performative photography.
I inhabit, animate and manipulate those materials and settings as costume and being. The performance of the sculpture is presented in photographic detail.
I draw upon my education and experience to re-contextualize classic tropes and pop-consumer intervals to create the staged version of myself, in order to express feminist subject matter.
Since I am the inhabitant and the filter of the themes I construct, I am describing the evolution of feminism through the inclusion of the vocabulary of the contemporary southern woman.
My background and education inform me, my body's politic charges me, my materials co-exist alongside what they make of me, and in response to these suggestions and parameters, I pursue the creation of the physical object in order to change the vagaries of inspiration into the intra and inter-metamorphic fuel of the consciously-expressed statement. This is how artists create change, and from where the desire to, arrives. What I am creating as a filter for my subjects is a substantial expansion of the definition, vocabulary, and scope of Feminism.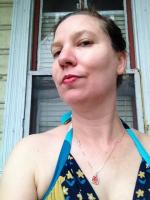 Heather Weathers was born in Metairie, Louisiana 1971. She attended the New Orleans Center for Creative Art, combining mixed media and contemporary ideas. After graduating from NOCCA, Heather earned her BFA at the University of Southwestern Louisiana, pursuing performance art, painting and ceramic art, and in 1994 she performed in a New Orleans Industrial band called Gimp. Heather earned her MFA from Pratt Institute in 1998, combining her feminist views, multi media materials and performance art in a piece involving a bikini made out of meat called "Sweat Meat" in 2001.
After graduating, Heather started a series of multiple site art programs in Brooklyn, New York that included utilizing The Dorthy Bennet Mercy Center. After creating public art in gardens at the Hollenback Community Garden, she exhibited with the feminist group Soho 20 and The Exhibitionists.
She exhibited her multimedia Feminist art combining performance art and installations at The Big Top Gallery in New Orleans from 2000 - 2010. She was able to write grants to further children's art education from 2011 to present. Heather Weathers currently exhibits her contemporary work in New York, Kansas City and New Orleans.
In 2007 Heather Weathers was recognized by the ACLU foundation of Louisiana as a defender of civil liberties. She is an active member of the Women's Caucus for Art of Louisiana, the New Orleans Photo Alliance and the Second Story Gallery. Weathers support the National Organization of Women. She donates artwork often to benefit women's rights. She continues to use art as a political weapon today in New Orleans.
You can find her work in the following collections: McNeese State University, Louisiana; Detroit Institute of Arts, Michigan; Museum of Menstruation, Maryland; The New Orleans Museum of Art, Louisiana; The Paul and Lulu Hilliard Museum, Louisiana New York Body Archive, New York and Florida. You can also view more work at www.heatherweathers.com.