New Orleans Poetry Festival Reading
On April 21, 2019, the New Orleans Poetry Festival generously hosted a reading by four authors of Unlikely Books. David E. Matthews is the author of the Unlikely Book Cantos Poesia.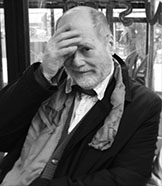 David E. Matthews lives now in his home state of Texas, in the Hill Country. For 20 years, Unlikely Stories has published his barbaric yawp. A fact that stupefies him with pleasure & gratitude.