New Orleans Poetry Festival Reading
On April 21, 2019, the New Orleans Poetry Festival generously hosted a reading by four authors of Unlikely Books. In this video, C. Derick Varn reads from his Unlikely Book, Apocalyptics.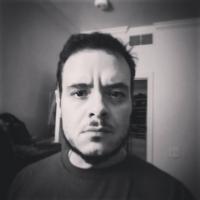 C Derick Varn is a poet, podcaster, and teacher. He served as assistant editor for Arts and Letters: A Journal of Contemporary Arts, managing editor for the defunct Milkweed Review, founding editor for Former People, and was a reader for Zero Books. He won the Frankeye Davis Mayes/Academy of American Poets Prize in 2003. He is the author of the collections Apocalyptics (Unlikely Books, 2018), and Liberation, and all the other bright etcetera (Mysterioso Books, 2022). He currently lives in Utah but spent most of the last decade outside of the US. He hosts the politics, history, and culture podcast, Varn Vlog. Derick recommends the Huntsman Cancer Institute and Doctors without Borders.