New Orleans Poetry Festival Reading
On April 21, 2019, the New Orleans Poetry Festival generously hosted a reading by four authors of Unlikely Books. In this video, C. Derick Varn reads from his Unlikely Book, Apocalyptics.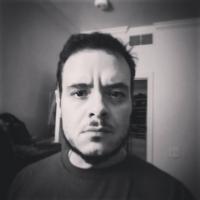 C. Derick Varn is a poet and teacher now living in Salt Lake City. His first collection, Apocalyptics, is available from Unlikely Books. He is a poetry reviewer for the Hong Kong Review of Books, and edits the online literary journal, Former People. He also reads theory and nonfiction for Zero Books and is a podcast co-host and co-producer for Symptomatic Redness and Alternatives.
He has spent most of the last decade in South Korea, Mexico, and Egypt. He traveled with his partner through Asia, Turkey, and Mexico. He studies the history of socialism and alternative political movements. Derick recommends the Huntsman Cancer Institute and Doctors without Borders.