Multimedia Sculptures, October 2017
With Things That Float (2009) and Dwelling Afloat (2017) Rontherin Ratliff re-imagines his experience with the grieving of a personal loss during the New Orleans flood, that resulted from the 2005 Hurricane Katrina.  Things That Float exists as a sculptural depiction of Ratliff's' realization of the magnitude of debilitating loss, while standing waist high in his grandmothers' living room, amid the Hurricane Katrina flood waters.  Through the use of found objects that are associated with domestic living, he has materialized structures that take the shape of houses and bring to mind our layered understanding of home. 
---
Counterbalance as we know, happens when one weight balances another weight.  In this series, functionality, astatic, context and associations are used as an attempt to explore subjects of loneliness, loss, homesickness, memory and the bourdons we often carry.  For me, it's just steps of a journey in search of the equilibrium that may or may not exist between life and art.
---
| | |
| --- | --- |
| | |
With the series Can't Call Home I attempt to explore what I understand to be home, the mental and physical space. This is the result of my investigation of connections and communication, love and loss, nostalgia and yearning, irrecoverable conditions and acceptance, and an overall expression of optimism. The theme of this series encouraged me to look at past periods in time that brought back memories and emotions I was not quite sure how to manage. My personal understanding of that place called home is not a closed in structure with a roof overhead but instead, a space in time. My experience of home has been lived in moments that offered a sense of familiarity, comfort and security.
Through consideration of what it means to be beyond these established moments of significance, I am exploring the loss of a period in time and the absence of familiar feelings derived from loved ones.
---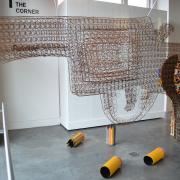 Revolve is inspired by the idiomatic expression, "As you make your bed, so you must lie on it".  It is intended as an  invitation to a conversation, pointed at the topic of youth gun violence in New Orleans and the cycle, in which it systematically revolves.  A cycle that should alarm us, in the same way in which it would, if we walked into a room where a child was playing with a loaded gun.
Mattress springs, wooden toys, plywood, chalk paint, chalk, 16' x 9' x 3', Contemporary Art center, New Orleans

Rontherin Ratliff was born in New Orleans where he currently lives and works. He is a self-taught artist whose work explore the relationship between aspects of architecture as analogous to the characteristics of the human conditions. He is a member of Antenna and LEVEL Artist Collective in New Orleans. Recent exhibition venues include the Elsewhere Museum (Greensboro, NC), Art Route 2017 (Groningen, NL), Xavier University Gallery (New Orleans, LA), Tulane University Carroll Gallery (New Orleans, LA), Deering Estate (Miami, FL), Governor's Island, (New York,NY), 516 ARTS (Albuquerque, NM) and Iris and B. Gerald Cantor Art Gallery (Worcester, MA). Learn more at www.rontherin.com.