"Monsoon," "Refugee," and "Baking in Ojo Caliente, New Mexico"
Monsoon
I
The heavy sky applauds our roof.
I walk out to soak
to receive the universe
a lover in the rain.
II
Water deepens and brightens,
falls softly, enthusiastically.
I open like the desert
dropping clothes on the ground.
Wet is beautiful.
III
Back porch leaks to its own beat,
irregular time on a rustic chair.
Waves and waves of darkened sky play on.
---
Refugee
A little boy asleep on the shore
fell from a boat where he swam like a fish
but he was no fish.
His family, lured by dreams
of kindness somewhere,
a day without blood and splattered brain matter,
an electric chance of new and better
where children build castles in the sand
where the sound of water is calm and soothing
and children do not drown
looking for a safe place to play.
---
Baking in Ojo Caliente, New Mexico
Sun cracked grass signals
the yellow haze of transition.
Pinon fire in a kiva stove
is a Southwest desert Fall
in the armpits of tradition
and passionate drumming.
Precarious rocks cling
on an overhead cliff.
Mesquite and Sage
breeze by geckos.
Steam rises
in the lithium pool:
Aura eggs meet
spiritual nutrition.
Fairy wings tickle
the unmentionable.
Spa police say
"Whisper, please.
Respect the sacred water."
We think of Standing Rock.
We are awed
in the presence
of the liquid god
and its protectors.
We are silent
as hummingbirds.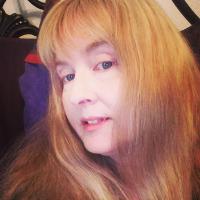 Beside writing and publishing for decades, Belinda Subraman was a Registered Nurse for 14 years, mostly in hospice. She's also an artist working in ink and acrylics.  She's a member of several drumming groups and has been playing African rhythms for over five years taught directly from African masters.  She also has a daily yoga practice and a book of poetry called Left Hand Dharma published by Unlikely Books in 2018.