Robyn resembled Liza Minnelli and belted out a bit of "Cabaret" to anyone who would listen. I listened. She took a fast fancy to me in a bar one Saturday night, but when I learned she was nineteen I waved goodbye being thirty-two.
She persisted, even showing up at my twelve-year-old's soccer games, pointing out how well they got along, and "Of course you do," I would say: "You're so close to each other's age."
Eventually I accepted her dinner invitation and overnighter where I felt trapped in the basement apartment of what turned out to be her mother's home. The night droned on with her reading page after page of handwritten poetry and singing song after song. This was one of those escapades picking clothes off the floor and hobbling out while dressing the next morning. Her mother, to whose age I was closer than to Robyn's, appeared at the front door glaring at me, arms akimbo.
Robyn was accepted to the Sorbonne, and I was delighted for her and relieved for myself. Her mother set her up in a pied-à-terre, and we said what I thought a final adieu by phone.
Letters from Paris arrived heavily perfumed almost weekly describing the Seine, cafés, even the cemetery where her beloved Edith Piaf was buried. The letters begged me to pack up my son and move in with her in Paris. One held open ended, one-way tickets I mailed right back.
Years later, yet another letter arrived. Robyn, teaching English in Albi, had taken up painting in her new atelier. She had also taken in a lover, Mathilde, who dazzled her having been a Moulin Rouge cancan dancer where Minnelli had performed. In this last letter, she jokingly referred to Mathilde as M'lover. She was her own mother's age.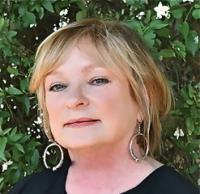 Andrena Zawinski is a poet, flash fiction writer, and shutterbug. Her flash fiction, always steeped in memoir, has appeared in The Green Shoe Sanctuary, Flashes of Brilliance, Ginosko, Pretty Owl, Oye Drum, Windward Review, Midway Journal, and others. Her fourth full collection of poetry, Born Under the Influence, and debut collection of flash fiction, Plumes, are forthcoming in 2022. She recommends Lambda Literary.