"Lowest Degree of Volition" and "Confections"
Lowest Degree of Volition
To visit Paris again
not sure about that
the French Onion soup
the Louvre
subway and Taxi rides
a lot of history
unlikely to be seen
again by these eyes
no matter
the wish or will
insignificant inclination
no compulsion to act
a whole different
circumstance when you
walk in the room
and all the knives
and weapons have
to be hidden
to keep you safe.
---
Confections
There should be
mithridate
against cold and
ice
failed suicide attempts
mercenary
killings, poisonings, theft
attempts
to avoid fate
assassination
story of tolerance
insurrections
immune universal antidotes
medical
science can't explain
tyrannical
kings of childhood
defined
with increased doses
and
ancient kingdoms especially
effective
against years of
consumption.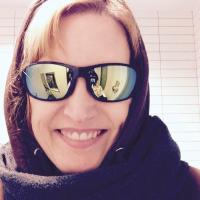 L.B. Sedlacek is an award winning poet and author with poetry and fiction appearing in many different journals and zines. Her latest poetry books are The Adventures of Stick People on Cars (Alien Buddha Press), The Architect of French Fries (Presa Press) and Words and Bones (Finishing Line Press). She is a former Poetry Editor for ESC! Magazine and also co-hosted the podcast for the small press, "Coffee House to Go," for several years. She teaches poetry at local elementary and middle schools and publishes a free resource for poets, "The Poetry Market Ezine." In her free time, LB enjoys swimming, reading, and taking guitar lessons. She recommends the Caldwell Humane Society.