So in this dream
You are a painting by Thomas Hart Benton with luxurious black hair and beautiful pale white skin
Asleep.
An old hillbilly a mid-west aging Pluto attempts to touch you, looks at you from around the corner in awe and sublime wonder and it's obvious and plain to see that he is complete and completely in love with you as you lie in a Cinderella-like ecstasy naked in the middle of a rural Kansas field. Persephone he is softly saying, Persephone. But you cannot hear him speak and he cannot bear to take you. Into the underground of his place, and his hell. In the back ground there is a wheat thresher and FDRs America, there is a wide open blue & empty sky full of white clouds and depression era beliefs, and you are Beautiful he murmurs Beautiful because Cupid has overtaken him and you have overtaken all his senses and he cannot ever leave.
So in this dream
You are a painting
In this dream you are the spring and the awakening of all ancient wonders and all ancient things, hidden away among the fears and jealousies of all men who cannot see
The very things that makes you beautiful
"You"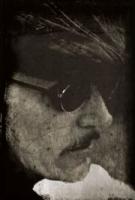 R.M. Engelhardt is an author, poet & writer whose work over the years has appeared in many journals & magazines such as Rusty Truck, Thunder Sandwich, Full of Crow, In Between Hangovers, Writers Resist and in many others. His new book of poetry is called Coffee Ass Blues & Other Poems published by Alien Buddha Press (2018). He is also the host of The Troy Poetry Mission, an open mic for poets located in Troy, New York.