Krewe de Louisiane reading
The Krewe de Louisiane was a live reading of poetry and prose, featuring writers from New Orleans, Louisiana, and beyond.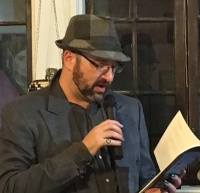 Jonathan Penton founded UnlikelyStories.org in 1998. His own poetry books are Last Chap (Vergin' Press, 2004), Blood and Salsa and Painting Rust (Unlikely Books, 2006), Prosthetic Gods (New Sins Press, 2008), Standards of Sadiddy (Lit Fest Press, 2016), and the electronic chapbook Backstories (Argotist E-books, 2017). He lives in New Orleans, where he is working on a book of ekphrasis and a book of haibun with Cassandra Atherton. Jonathan recommends the Southern Poverty Law Center.